Company Signs $1.5M Professional Services Agreement with One of the Worlds Leading Retailers
SAN JOSE, Calif.--(BUSINESS WIRE)--Zest Labs, an AgTech company modernizing the post-harvest fresh food supply chain, today announced the launch of its professional services offering. The company also announced that it has signed a $1.5M professional services agreement with one of the worlds largest retailers. Zest Labs is a subsidiary of Ecoark Holdings, Inc. ("Ecoark") (OTCQX: ZEST).

Zest Labs professional service offering addresses three core areas that are critical to improving the fresh food supply chain and reducing waste:
Systems Integration and Customization of Quality Control Systems, Warehouse Management Systems (WMS) and Third-party Logistics (3PLs)
Evaluation of Current Waste Sources to identify and quantify shrink sources and issues that impact freshness and shelf-life
Operational Efficiency Assessments that establish process adherence and equipment/asset utilization metrics and provide improvement strategies
"By assessing all the variables that can impact delivered freshness across the supply chain, were able to provide organizations with the right strategies for creating the operational efficiencies necessary to improve product margin and sustainability by reducing food waste," said Peter Mehring, CEO of Zest Labs.
One of the worlds leading retailers has engaged Zest Labs, after a pilot program, for its unmatched experience designing and implementing freshness management solutions for the cold supply chain that improve food safety and reduce waste. The companys Zest Fresh solution improves the freshness of produce sold to customers and helps organizations achieve efforts toward zero waste within their operations and throughout their supply chain.
"This agreement is a testament to the innovation and thought leadership exhibited by Zest Labs and the value that post-harvest freshness management solutions provide todays marketplace," said Mehring.
The professional services project is expected to be completed this year.
About Zest Labs
Zest Labs is an AgTech company modernizing the post-harvest fresh food supply chain to improve food safety and reduce food waste by 50% or more. Our flagship solution, Zest Fresh, provides autonomous, field-to-shelf visibility for proactive decision making to improve delivered freshness and reduce shrink. Integrated blockchain technology provides true transparency for food safety, product freshness and traceability. Zest Fresh improves profitability and increases customer satisfaction and brand loyalty while promoting sustainability.
Featured Product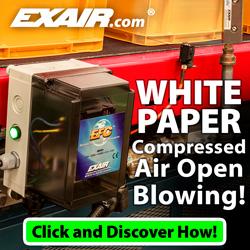 Compressed air is a limited resource that is generated in-house for the benefit of many operations within the manufacturing environment. Learn how to ensure all point of use applications are using your compressed air in the most effective and efficient way possible. Learn how much it costs to produce that compressed air and how Engineered Nozzles can help you use your air more effectively and efficiently.