Providing unbiased equipment and in-field data analytics, this partnership enables growers to manage risks, make more informed buying decisions, and drive overall efficiency on the farm.
WEST FARGO, North Dakota & WINNIPEG, Manitoba--(BUSINESS WIRE)--Titan Machinery Inc. (Nasdaq:TITN) announced today a strategic alliance that brings Farmers Edge precision digital solutions to growers across Titans footprint. Additionally, the two companies will collaborate to further integrate and enhance equipment management capabilities within the Farmers Edge platform to deliver the next level of productivity, cost savings, and simplicity to farmers.

"Farmers Edge continues to innovate precision agriculture, getting farmers from data to decisions easier and faster," says David Meyer, CEO of Titan Machinery. "Daily satellite imagery, reliable machine connectivity, field-centric weather, and other data feed FarmCommand - the integrated farm management platform - giving growers quick insights into factors impacting their crop and equipment, regardless of brand. Farmers Edge has trained technicians and agronomists across our territory to work side-by-side with our precision experts to install, train, optimize, and provide ongoing field support to our customers."
The food and agriculture chain is one of the most promising industries in which big data can bring about transformational change. Farmers Edge is intensely dedicated to advancing the implementation of machine learning and data analytics to give both growers and agricultural professionals the information they need to make the best possible decisions. Connecting industries and breaking barriers in agriculture, Farmers Edge is actively forging new partnerships that showcase the value of field-centric and integrated data management. In 2017, they announced an exclusive partnership with Planet for high-quality, high-frequency satellite imagery, and most recently announced an alliance with PartnerRe that will enable data-driven customization of grower insurance solutions. Ron Osborne, CSO of Farmers Edge remarked, "Were very excited about our partnership between Titan Machinery and Farmers Edge. Both companies are thought leaders, and this unique collaboration will deliver valuable, innovative and integrated solutions to farmers and their dealers, around the world."
"This new alliance with Titan Machinery will take us far beyond a distribution agreement to the full integration of field and equipment data," said Wade Barnes, president and CEO of Farmers Edge. "Equipment is central to decision agriculture, and now we will combine data and expertise with Titan to ensure customers have the right information to operate their machines more productively with the ability to immediately identify and correct performance and health issues."
About Titan Machinery
Titan Machinery Inc., founded in 1980 and headquartered in West Fargo, North Dakota, owns and operates a network of full-service agricultural and construction equipment dealer locations in North America and Europe. The network consists of US locations in North Dakota, South Dakota, Iowa, Minnesota, Montana, Nebraska, Wyoming, Wisconsin, Colorado, Arizona, and New Mexico, and European locations in Romania, Bulgaria, Serbia, and Ukraine. The Titan Machinery locations represent one or more of the CNH Industrial Brands, including Case IH, New Holland Agriculture, Case Construction, New Holland Construction, and CNH Capital. Additional information about Titan Machinery Inc. can be found at www.titanmachinery.com.
About Farmers Edge
Farmers Edge is a global leader in decision agriculture servicing over 20 million acres worldwide with precision digital solutions. Integrating field-centric data, easy-to-use software, state-of-the-art processing technology, predictive modeling, and advanced agronomic analytics, Farmers Edge provides growers with scalable solutions to produce more with less. Using innovative digital agronomic tools, Farmers Edge solutions focus on the sustainable production of high-yielding, high-quality crops and are designed to optimize inputs, minimize environmental impact, and protect economic viability of the farm. From seed selection to yield data analytics, Farmers Edge transforms big data into timely and accurate insights to support informed decision making. For more information about Farmers Edge, visit FarmersEdge.ca or FarmersEdgeUSA.com
Featured Product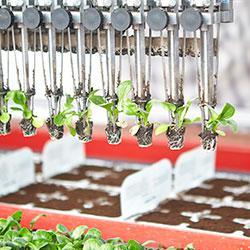 MICROMO launches the new MC3/MCS motion control family. The new high performance, intelligent controllers are optimized for use with FAULHABER motors, offer electronics for simple operation with state-of-the-art interfaces for multi-axis applications, and provide a motion control system solution with the most compact integration into industrial grade housing.