Will help growers minimize fertilizer use while preserving yield and profits
MINNEAPOLIS, Feb. 27, 2018 /PRNewswire/ -- Sentera has signed an agreement to bring novel University of Minnesota-developed corn nitrogen deficiency technology to the market. The technology allows growers to more precisely match applied nitrogen fertilizer to the optimal needs of the crop. Minimizing over-application of nutrients saves money, reduces the risk of fertilizer runoff into lakes, streams, and rivers, and preserves crop yield. Under an exclusive agreement, Sentera will integrate the capability into the Sentera FieldAgent™ Platform and begin field trials with several of its largest customers this year. Commercial rollout is planned for 2019.

Benefitting Growers, Environment
"Nitrogen management is one of the primary controllable cost components for corn growers," said Sentera CEO Eric Taipale. "This technology enables tailored management practices aided by a real-time estimate of nitrogen status. Real-time feedback into existing prescription models delivers further refinement and reduces risk to the grower while improving their bottom line."
Leaves Tell the Story
The technology, developed through University of Minnesota research with support from the Minnesota Corn Growers Association, detects nitrogen stress in corn using computer vision techniques that recognize characteristic features on plant leaves. The frequency and appearance of these features correlate directly to nitrogen deficiency. Deficiency information is subsequently fed into models that incorporate other weather, soils, and similar information to generate a prescription to address the issue.
"The correct application of nitrogen is a critical variable in crop success and keeping agricultural practices from harming our environment," said David Mulla, professor and Larson Endowed Chair in soil and water resources at the U's College of Food, Agricultural and Natural Resource Sciences. "Working with Sentera allows us to move the research we've done at the University of Minnesota into the hands of farmers quickly and efficiently. Producers will be able to be far more accurate in their fertilizer application, saving them money and keeping nitrogen out of the water."
Next Generation Nitrogen Detection
Nitrogen stress in crops has generally been identified via more expensive manual techniques, or by using remote sensing technology that cannot distinguish between nitrogen and other crop stressors, such as diseases, pests, or other nutrient problems. In contrast, this technology can diagnose a nitrogen issue directly.
"The University of Minnesota is a leader in automated sensing technology, pioneering new methods for solving difficult problems," said Nikolaos Papanikolopoulos, McKnight Presidential Endowed Professor in computer science and engineering at the U's College of Science and Engineering. "It's exciting to see this technology being licensed and developed locally, and it's another indication of Minnesota's growing strength—academic and commercial—in the area of sophisticated sensing and analysis."
Dedicated Trial
Sentera has launched a dedicated trial program with some of its largest customers through its FieldAgent Platform. Nitrogen Deficiency Detection Analytics will be rolled out to all FieldAgent subscribers during the 2019 North American growing season.
Click here to read the University of Minnesota's technology write-up.
About Sentera
Sentera is a leading supplier of integrated remote sensing, analytics, and IoT solutions to the agriculture industry. Sentera makes it easy for users to integrate in-field real-time data with many digital ag platforms. Sentera's equipment has flown tens of millions of acres all over the world, and the company manages terabytes of new data for its customers every year. For more information, visit www.sentera.com.
About the University of Minnesota
Founded in 1851, the University of Minnesota is ranked among the nation's top public research universities. The University's Office for Technology Commercialization facilitates the transfer of University of Minnesota research to licensees for the development of new products and services that benefit the public good, foster economic growth and generate revenue to support the University's research and education mission.
Featured Product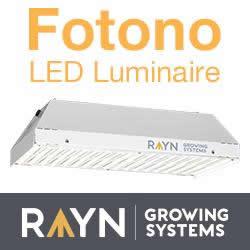 Fotono is a full spectrum LED horticultural luminaire designed to directly replace HPS lights in greenhouses. At 12 pounds, 20 inches long, and 5 inches high, Fotono's compact size makes installation simple while minimizing structural burden on greenhouses. This compact fixture packs energy-saving and yield-improving features, such as a high output, stepless dimming, advanced spectral capabilities, and more.