Delivered Shelf-Life of Produce Pallets Vary by as Much as 86 Percent, Contributing to Shrink and Lost Profits
SAN JOSE, Calif.--(BUSINESS WIRE)--Zest Labs, an AgTech company modernizing the post-harvest fresh food supply chain to improve food safety and reduce food waste, today announced key findings from a recent study of strawberries harvested over a two-month period. The study reveals the significant impact of temperature and handling on fresh produce, and that the impact on shelf life and delivered freshness begins in the field starting when the produce is picked. The findings demonstrate the economic benefits of pallet-level freshness management for growers and retail grocers. The study was conducted by Zest Labs, a wholly-owned subsidiary of Ecoark Holdings, Inc. (OTCQX: ZEST), in August and September of 2017 with strawberries harvested in California.

When produce is harvested, it has a definable shelf-life, also known as its "freshness capacity," which can vary based on three primary factors; quality at harvest, harvest conditions and product temperature. In the Zest Labs study, the strawberries optimum freshness capacity was determined to be 14 days. Using its Zest Fresh™ solution, Zest Labs found that the delivered strawberries had shelf-life variability by as much as 12 days, representing 86 percent of the fruits total freshness capacity. Todays fresh food supply chain does not account for this variability, as it typically relies on date labels for assessing remaining freshness. As a result, the unaccounted for shelf-life variability contributes to a significant portion of the $161 billion fresh food waste problem in the U.S. due to unanticipated early spoilage.
Zest Fresh addresses this challenge by managing the variability in freshness capacity at the pallet level, helping growers and retailers reduce waste and deliver an improved customer experience. Zest Fresh utilizes cloud-based analytics to enable intelligent pallet-routing using the Zest Intelligent Pallet Routing Code (ZIPR Code). The ZIPR Code is dynamically calculated based on the quality at harvest, harvest conditions, and the complete product temperature history since harvest and it enables growers to identify and ship each pallet based on its actual remaining freshness. For example, a pallet with 12 days of remaining freshness could be shipped across country, whereas a pallet with eight days of remaining freshness should be shipped locally. As a result, each retailer receives product with adequate remaining freshness for distribution to the store and sell-through, while still ensuring five days of remaining freshness for the customer. Freshness management based on the ZIPR Code helps reduce early spoilage for consumers, while reducing grower and retailer shrink (combination of waste and markdowns), and increasing profitability.
In the study, wireless IoT sensors were inserted at field harvest in each pallet of berries using the Zest Fresh solution. The tags were then autonomously read at key points through the fresh food supply chain, with final readings taking place at a retail distribution center. At each reading, the ZIPR Code for each pallet was dynamically calculated using AI-based predictive shelf-life analytics. Pallets were then intelligently routed based on their respective ZIPR Codes.
"Many people believe that waste occurs at the end of the fresh food supply chain," said Peter Mehring, CEO of Zest Labs. "But through this study, we have shown that the primary impact to remaining shelf-life occurs in the first 48 hours. The combination of harvest quality, initial processing and the initial distribution decisions result in significant variability of delivered shelf-life. This variability results in shrink, which typically occurs later in the product shelf life when at the store or consumer level, and leads to lost profits, out-of-stocks and dissatisfied customers. With Zest Fresh and the ZIPR Code, growers and retailers now have insight into the remaining freshness of their produce in real-time to more intelligently route product to prevent waste and ensure happy customers."
Zest Fresh can be used for all fresh and perishable products in the fresh food supply chain including produce, meats, seafood and dairy. For more information about this study, please email info@zestlabs.com.
About Zest Labs
Zest Labs, a subsidiary of Ecoark Holdings, Inc., DBA Zest Technologies™ (OTCQX: ZEST), is an AgTech company modernizing the post-harvest fresh food supply chain to improve food safety and reduce food waste. Our flagship solution, Zest Fresh, provides autonomous, field-to-shelf visibility for proactive decision making to improve delivered freshness and reduce shrink by 50% or more. Integrated blockchain technology provides true transparency for food safety, product freshness and traceability. Zest Fresh improves profitability and increases customer satisfaction and brand loyalty while promoting sustainability.
Featured Product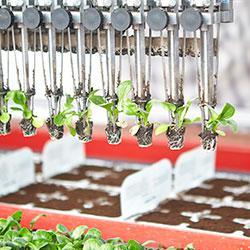 "Smart farming" is an important part of the answer to this existential question: Extremely high efficiency in food production through the targeted use of the latest technology, computer-supported and - where possible - fully automatic. Seeds are individually and precisely placed; fruits carefully picked by mechanical grippers; fertilizers and plant protection products applied in small doses and in a targeted manner. These operations require a large number of small electric motors that are both robust and powerful.