Harvesting, a fintech company headquartered in Silicon Valley, is opening its APAC office in Chandigarh, India
Harvesting Inc., a fintech company, is opening its first APAC office in Chandigarh, India. The office will form the foundation of the startups growth to support banks and NBFCs in Indian sub-continent to provide credit to farmers and to the agriculture sector.

Agricultural finance is the next frontier for Indias financial institutions as Artificial Intelligence (AI) and big data open up new opportunities for farmers. These new technologies will enable farmers to gain access to affordable finance to boost output. New data sources, such as satellite imaging, combined with agronomic data and value chain data is forming the basis of Harvestings global artificial intelligence-driven models.
Harvesting, through its Agricultural Intelligence Platform, is aiming to be the fintech partner of choice for banks who see agricultural finance (a key component of priority sector lending) as an opportunity rather than a requirement.
"There is amazing amount of innovation happening in India right now, especially in digital/online payments, and we believe that Harvestings technology solutions can take it further beyond urban and sub-urban to rural/agriculture segment," said Ruchit Garg, Founder CEO, Harvesting Inc.
Harvesting is growing rapidly in India and recently on-boarded Sumit Kumtha to lead sales growth in the Indian subcontinent. Sumit brings nearly two decades of experience working closely within banking and financial industry across APAC, Africa and Middle East.
India is a key market in Harvestings expansion plan across the emerging world. Harvesting has partnered with CGAP, a World Bank institution, to develop an innovative credit scoring system to help a microfinance institution in Uganda to scale up their lending to coffee farmers. The company was recently named Best Fintech for Financial Inclusion by FMO, the Dutch Development Bank, at African Microfinance Week.
About Harvesting
Harvesting, a fintech startup, is re-imagining the way financial institutions make and manage loans to farmers. Based in Silicon Valley, California, and working across five continents, Harvesting has built an Agricultural Intelligence Engine which leverages remote sensing satellite data, historical yields, transaction data and machine learning techniques to provide a new way of analyzing the creditworthiness and financial behaviors of farmers.
Featured Product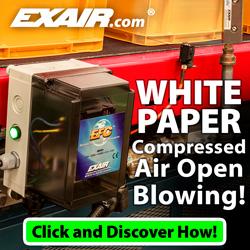 Compressed air is a limited resource that is generated in-house for the benefit of many operations within the manufacturing environment. Learn how to ensure all point of use applications are using your compressed air in the most effective and efficient way possible. Learn how much it costs to produce that compressed air and how Engineered Nozzles can help you use your air more effectively and efficiently.