Next-generation pitch competition announces 20 startups selected to participate in 11th event
SAN FRANCISCO, Feb. 1, 2018 /PRNewswire/ -- Rabobank announces the 20 startups to pitch at FoodBytes! San Francisco on Thursday, March 1 at The Village. These game-changers are working at the cutting-edge of food innovation; analyzing the soil microbiome to produce food more sustainably, disrupting the fish oil supplement industry with algae, tackling farm labor shortages with fruit-picking robots and more. Part of Rabobank's Banking for Food vision to feed the world sustainably by 2050, FoodBytes! provides entrepreneurs a safe haven to share ideas as well as connections to Rabobank's network of clients, mentors and investors to help fuel growth.

"The innovations coming through FoodBytes! are inspiring and helping to solve real challenges in the food and ag industries," says Stephanie Edgecombe, global brand manager, food marketing, ADM. "We're pleased to support FoodBytes! and its family of entrepreneurs, who like ADM, share an unbridled passion and commitment to develop groundbreaking new ingredients, technologies and products to serve the growing consumer demand for a greater purpose."
Over 145 startups applied to pitch from around the world, and selected pitch companies hail from the U.K., Canada, Sweden, France and the United States. The highest ranked startups based on criteria including sustainability, traction and innovation will have 3.5 minutes to pitch. The second highest ranked startups will have 1.5-minutes to pitch. The startups will pitch to an audience of investors, executives, entrepreneurs, media and an expert judging panel including industry leaders Justin Gold, founder, Justin's; Ashley Koff, CEO, The Better Nutrition Program and Russell Forester, senior vice president, The Hain Celestial Group, Inc.
"The guidance and networking we received from the FoodBytes! community enabled us to accelerate our concept much faster than we would have otherwise," says Serena Taylor, the chief strategy officer of Evaptainers and People's Choice Award winner of FoodBytes! San Francisco 2017. "We are so grateful to have been welcomed into the FoodBytes! family and look forward to seeing this year's startups."
The 3.5-minute pitch companies are:
Boost Biomes (San Francisco, Calif.) - Addresses critical needs in food abundance and food security. The company is generating new, safe and effective biopreservatives to reduce waste and biopesticides to increase crop yield.
Biome Makers (San Francisco, Calif.) - Smart microbial discovery company specialized in DNA sequencing, bioinformatics, and machine learning tech targeting sustainable and more productive agriculture.
Remedy Organics (New York) - Disrupting the beverage category with its delicious plant-based protein beverages that provide meaningful functional benefits and natural healing properties resulting from the use of superfoods, ayurvedics and botanicals, as well protein and probiotics.
Augean Robotics (Philadelphia, Pa.) - Launched Burro, a robotic work cart that follows employees and can transport picked produce or other material autonomously. With Burro, the hundreds of thousands of US workers hand-picking fruit can spend 20-30 percent more time picking and no longer need to run what they've picked up and down long rows.
EIO Diagnostics (British Columbia, Canada) - Deploys an entirely new class of non-contact early infection detection devices to reduce udder infections in dairy animals to animal health and profitability for dairy farms of any size.
Farmer's Fridge (Chicago) - Innovative "micro-restaurant" food concept consisting of 12-square-foot automated fridges serving meals the company designs and prepares. The fridge leverages proprietary IoT technology to communicate with customers, and to provide real-time demand visibility based on data collected daily.
Lecker Labs (Walnut, Calif.) - Founder of Yomee, the world's first fully automatic yogurt maker, like a Keurig for yogurt. Yomee is a counter-top appliance that takes your choice of milk and in five hours creates fresh chilled craft-quality yogurt.
I Heart Foods (Chicago) - Produces a number of quinoa products including quinoa snacks, toasted quinoa grain and hot cereal. The company maintains strong sourcing commitment to Bolivian heirloom quinoa, the highest quality and most sustainably farmed quinoa in the world.
Miraculex (Davis, Calif.) - Creates technology to mass produce the best tasting and healthiest plant protein sweeteners.
Chef Koochooloo (Mountain View, Calif.) - Creator of a cooking app that provides a novel approach to teaching kids STEAM (science, technology, engineering, art and math) through healthy eating.
The 1.5-minute pitch companies are:
Yumami Food Company (New York) - Provides delicious Asian flavors to savory snacks. Its award-winning dips and chips are fit for foodies who keep nutrition in mind.
NewLavie (San Jose, Calif.) - Creating a local, sustainable food supply across the world utilizing proprietary technology and strategic partnerships to deliver healthy and affordable produce to the masses.
Hip Chick Farms (Sebastopol, Calif.) - Makes delicious, organic and easy poultry products for the whole family.
Novolyze (Daix, France) - A food safety company offering solutions to help the food industry manufacture safer food, while ensuring strong compliance with international food safety & quality standards.
Kray Technologies (Novato, Calif.) - Advanced technology for crop protection to be used at the industrial scale for almost all crop production farms. Kray Protection drone demonstrates outstanding performance of crop dusting while lowering farmers' expenses. It prevents yield losses that are inevitable when using other crop protection methods.
BioFiltro (Davis, Calif.) - International wastewater treatment company with a patented filtration system that harnesses the digestive power of worms and microbes to remove up to 99 percent of contaminants in a chemical free four-hour process.
Smallhold (New York) - Enables retailers and restaurants to grow high quality, organic mushrooms and leafy greens on-site, without the effort.
Binkabi (London, Great Britain) - Reimagines global agrifood trade to create a more affluent and fair system for all in the Binkabi network. Binkabi's core innovation, the Barter Block, enables direct, secure and cost-effective agriculture commodity trading in a decentralized manner through the use of blockchain technology. Barter Block incentivizes the automatic balancing of bilateral trade, empowering countries to trade internationally in their local currencies.
Simris Alg (Hammenhog, Sweden) - Pioneering agribusiness based in Sweden. Simris Alg's mission as algae farmers is to empower healthy and planet-friendly lifestyles, by delivering superior products from algae.
Nell Natural Elements (London, Great Britain) - Creates fully personalized, natural food supplements using data about biology to help understand an individual's body and its unique needs in order to optimize health.
FoodBytes! by Rabobank is presented by ADM, a trusted advisor and specialty ingredients provider to food and beverage companies looking to get to market quickly with products consumers love. New to the FoodBytes! family are official sponsors, Polsinelli, an AM Law 100 firm focusing on food and beverage, food and agtech, and health care among other categories and Agropur, Canada's leading dairy cooperative with its open innovation platform, Inno Challenge, designed to reinvent dairy by accelerating promising startups. The Hain Celestial Group, Inc. and its Cultivate Ventures platform, which focuses on investing behind lifestyle brands, smaller portfolio brands and concepts as well as incubator opportunities, returns as an official sponsor of FoodBytes!.
Since FoodBytes! launched in 2015, more than 1,100 companies have applied to pitch from 30 countries with over 2,900 attendees in North America, Europe and Australia. Tickets to FoodBytes! San Francisco are on sale now and applications to pitch at FoodBytes! Montreal (May 16) and New York (October 18) are open. For more information visit the website and follow FoodBytes! on Twitter, Facebook and Instagram or view curated content via the hashtag #FoodBytes.
About Rabobank
Rabobank Group is a global financial services leader providing wholesale, rural and retail banking, leasing, and real estate services in more than 40 countries worldwide. Founded over a century ago, Rabobank today is one of the world's largest banks with over $750 billion in assets. In North America, Rabobank is the premier bank to the food, agribusiness and beverage industries, providing sector expertise, strategic counsel and tailored financial solutions to clients across the entire food value chain. We know that sustainability and innovation are critical in promoting a thriving food and ag industry that will feed growing global populations for years to come, which is a key focus our Banking for Food strategy. Additional information is available on our website.
Featured Product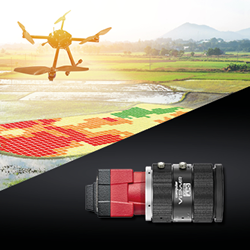 Allied Vision's compact and light weight Alvium SWIR (short wave infrared) cameras are the ideal choice to build cost-effective OEM systems used in embedded and machine vision applications. The cameras support a spectral range from 400 nm to 1700 nm at high quantum efficiencies. This allows to capture images in both the visible and SWIR spectra with a single camera and enables users to reduce overall system costs! Equipped with Sony's IMX990 and IMX991 SenSWIR InGaAs sensors, Alvium SWIR cameras deliver high image quality and frame rates. This makes them well suited for drones or handheld devices used in various industries such as, agriculture, mining, solar cell inspection or medical.