The New NeoPAR LED Grow Light Fixture Provides Powerful, Ultra-Thin, Cost Effective Option.
Illumitex, the Digital Horticulture company, announces the launch of a new line of grow lights designed specifically for vertical operations. This series will have options for every stage of growing, most notably vegetation and flowering.

"Our team has incorporated decades of fixture design expertise and horticulture knowledge into our new platform," says Jeff Bisberg, CEO of Illumitex. "We understand growers need a solution to maximize and optimize every square foot of their facilities and the entire company is confident this light will be integral in achieving that goal."
The horticulture science and engineering teams have designed this LED lighting system to ensure it delivers most relevant PPF output levels, uniformly, while creating the thinnest light on the market. The clear objective of this release is to prove that LED can compete directly with HPS regarding yield, quality, value, and ROI. The ultra-thin profile gives indoor growers the flexibility to create cost-effective high-density grow configurations without compromising the lighting solution. The enhanced full spectrum is proven to increase results, and the fixture arrives fully assembled, allowing for easy installation.
The NeoPAR LED system also offers world-class efficiency and achieves PAR (photosynthetically active radiation) for all crops, regardless of high or low DLI (daily light integral.) While the light was developed by the renowned electrical engineer team, the horticulture science staff played a large role in ensuring the light would transform the indoor growing space.
"Illumitex has a rich history for game changers and the NeoPAR is no different," says John Spencer, SVP of Sales and Marketing. "We are solving unique challenges for growers across applications. Throughout the year well be launching additional spectrum covering the lighting gamut from far-red to ultraviolet."
The NeoPAR will be widely available to the public Spring of 2018 in anticipation of the increased adoption of vertical and urban farming operations across the United States and Canada. For more information on NeoPAR, go to http://www.illumitex.com/neopar.
About Illumitex, Inc:
Founded in 2005 in Austin, Texas, Illumitex works diligently to create industry-shifting achievements in horticultural lighting. Our team of horticulture scientist and engineers have radically transformed LED lighting that influences plant benefits including yield, taste, color, and smell. Illumitex is enthusiastically committed to scientific research, cutting-edge design, and innovative engineering. We are dedicated to working with our customer to deliver world-class horticulture solutions while pushing lighting into the digital age with automated tools and services. http://illumitex.com.
Featured Product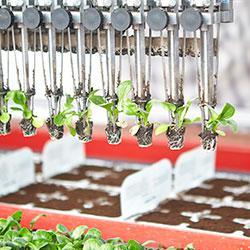 Monotone, repetitive movements of the hand can lead to chronic strain syndromes. Electric professional tools provide relief, such as "Pony" pruning shears. It is one of the most powerful products on the market with over 70 cuts per minute and a weight of only 770g. This is only possible with a drive that combines the highest efficiency with a compact lightweight design. Manufacturers of professional tools from around the world therefore rely on drive solutions from FAULHABER.