Acceleration of R&D Advancements to Bring Analytics-Based Insights to More Farmers
SAN FRANCISCO--(BUSINESS WIRE)--Today, The Climate Corporation, a subsidiary of Monsanto Company (NYSE: MON), announced 17 advancements accelerating through its R&D pipeline, including global expansion of the companys research footprint to deliver science-driven, digital agriculture innovations to more farmers around the world.

"Our innovation pipeline spans many areas of research and combines machine learning, data analytics and predictive modeling with the industrys most robust seed genetic library and farm scale research, to identify the many variables that impact crop production," said Sam Eathington, chief science officer for The Climate Corporation. "We are using cutting-edge science to invent unique digital tools that improve on-farm productivity and create value for farmers. With recent launches of our industry-leading Climate FieldView™ platform in Brazil, Canada and Europe, were expanding our research efforts and accelerating the speed of innovation to provide farmers data-rich information to help them optimize inputs and maximize yield."
In January 2017, Climate introduced its innovation pipeline, unveiling more than 35 projects. Climates pipeline is the first of its kind in the digital agriculture industry. In August 2017, the company advanced seven projects to new phases of the pipeline. Today, Climate is sharing the acceleration of an additional 10 R&D advancements, combining unique field data with state-of-the-art science and powerful analytics to support farmers in the crucial management decisions they make throughout the year.
Key Technology Capabilities and R&D Advancement Highlights
Employing machine learning and predictive modeling techniques enables Climate to quickly deliver digital solutions to farmers that are customized to their individual operations. These capabilities are central to the advancements moving through Climates innovation pipeline.
Disease Diagnosis - Today, as much as 40 percent of global crop production is lost to disease, pest and weeds. Advanced disease insights can help farmers protect their crops from plant diseases that can devastate entire fields. Through Climates disease diagnosis research, the company is using artificial intelligence (AI) to diagnose diseases in corn, soybeans and wheat. The machine learning model continues to demonstrate strong performance in categorizing stresses on an individual plant and providing the correct disease diagnosis through a mobile or tablet device. Corn disease diagnosis (U.S.) advancing from development to pre-commercial phase.
Seed Scripting and Selection - With access to the industrys most robust plant genetics library, Climate is uniquely positioned in digital agriculture to understand how plant genetics interact with their environment. Climates seeds and planting research is tailored to specific genetics aimed to help farmers understand how to place the right seed in the best place for maximum performance and can help farmers sustainably enhance their productivity. The company is applying predictive modeling and machine learning to pool data from numerous sources, like seed genetics, disease pressure, soil composition, water movement, historical performance and more, to help farmers select the most ideal seed products for their fields. Advanced seed scripting research in Brazil is advancing from concept to development phase; Europe advancing to concept phase. Regionally-based seed selection for soybeans (U.S.) advancing from concept to development phase.
Fertility Scripting - Through advanced modeling, Climate embraces the complexity of soil fertility cycles, capturing key processes that impact nitrogen levels in the field to help farmers optimize the placement of key inputs. In August 2017, the company introduced manual fertility scripting for nitrogen, phosphorus, potassium and lime as the next step in building the industrys first comprehensive fertility solution in the Climate FieldView platform. The company is continuing to invest in research efforts globally for the delivery of fertility prescriptions for additional crops, including soybeans, wheat and canola. P&K scripting research in Brazil, Eastern Canada and Western Canada advancing from concept to development phase.
As Climate continues to expand its digital technologies to help more farmers access advanced agronomic insights, it adds new data layers to feed its R&D engine, ultimately enabling the development of valuable new features for farmers. First launched in the United States in 2015, the Climate FieldView platform is on more than 120 million acres with more than 100,000 users across the United States, Canada and Brazil. In October 2017, the company announced the launch of the Climate FieldView platform in Western Canada. Shortly after, the company announced the pre-commercial launch of the Climate FieldView platform into regions of Europe, including Germany, France and Ukraine. It has quickly become the most broadly connected platform in the industry and continues to expand into new global regions, with plans to expand the platform into Australia, Argentina and South Africa over the next few years.
To learn more about the Climate FieldView platform, contact your local Climate dealer or visit climate.com.
About The Climate Corporation
The Climate Corporation, a subsidiary of Monsanto Company, aims to help all the worlds farmers sustainably increase their productivity through the use of digital tools. The integrated Climate FieldView™ digital agriculture platform provides farmers with a comprehensive, connected suite of digital tools. Bringing together seamless field data collection, advanced agronomic modeling and local weather monitoring into simple mobile and web software solutions, the Climate FieldView platform gives farmers a deeper understanding of their fields so they can make more informed operating decisions to optimize yields, maximize efficiency and reduce risk. For more information, please visit www.climate.com and follow the company on Twitter @climatecorp.
About Monsanto Company
Monsanto is committed to bringing a broad range of solutions to help nourish our growing world. We produce seeds for fruits, vegetables and key crops - such as corn, soybeans, and cotton - that help farmers have better harvests while using water and other important resources more efficiently. We work to find sustainable solutions for soil health, help farmers use data to improve farming practices and conserve natural resources, and provide crop protection products to minimize damage from pests and disease. Through programs and partnerships, we collaborate with farmers, researchers, nonprofit organizations, universities and others to help tackle some of the worlds biggest challenges. To learn more about Monsanto, our commitments and our more than 20,000 dedicated employees, please visit monsanto.com. Follow our business on Twitter® at twitter.com/MonsantoCo.
Featured Product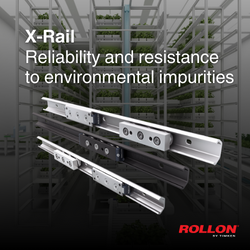 Rollon's X-Rail linear rails are a reliable solution in environments susceptible to impurities. Equipped with rolling elements with shaped and flat raceways, they are available in several versions: galvanized, nitrided or stainless-steel sheet metal. The latter version ensures total corrosion resistance, which is critical for hostile environments such as those found in vertical farming. Particularly innovative is the T + U configuration of the X-Rail linear rails, which can compensate for the parallelism errors of mounting surfaces. This simplifies installation and reduces costs.