Soil-loving Surfer, Brendan Davison, Focuses on Making Microgreens the Future of Food as his Farm Achieves Biodynamic® Certification
NEW YORK, Dec. 12, 2017 /PRNewswire/ -- Brendan Davison's microgreens from Good Water Farms just got easier to add to your diet in multiple ways—and he's confident in saying that they're the future of food. Producing 32 varieties of greens, consumers can now find Good Water Farms' microgreens around metro New York City at 12 Whole Foods stores, in 10 restaurants and via weekly home delivery subscription on Long Island. What's more, Davison came out with his first book, The Microgreens Cookbook: A Good Water Farms Odyssey, which was published in collaboration with Rizzoli this fall. These microgreens, grown indoors in soil, pack four to six times higher levels of vital nutrients than mature greens of the same plant, while also maturing in just 11-30 days. This begs the question, shouldn't microgreens be a staple in your diet now if they're more nutritious, quicker to grow and use less space to produce?
Davison is passionate about the movement for healthy and sustainable living, and certainly thinks microgreens are the future of food. For his new book, which is available online now, he teamed up with NYC chefs including Amanda Cohen (Dirt Candy), and Floyd Cardoz (Paowalla), bloggers and nutritionists such as Julie Resnik (FeedFeed) and Athena Calderone (@eyeswoon), to create recipes using his greens to help show consumers of to incorporate them simply into healthy meals. The book includes instructions on how to grow microgreens on your own, along with notes on why they're beneficial for your diet.
In terms of growing, Good Water Farms places all of their seeds in living trays, and depending on the variety, allow them to soak before germinating. As of December 2017, Good Water Farms has gone beyond its NOP Organic certification to have now also achieved Biodynamic® certification from Demeter USA. In order for a commercial farm or product to legally use the term "biodynamic," it must have obtained certification through Demeter USA, which is a non-profit organization that is the sole holder of the U.S. Patent Office certification mark for it. Biodynamic® agriculture is an ecological farming system that views the farm as a self-contained and self-sustaining organism. Biodynamic® farmers strictly avoid all synthetic chemical pesticides, fertilizers and transgenic contamination. Instead, they stress farm-generated, living solutions to pest control and fertility and set aside a minimum of 10% of their total acreage for biodiversity.
Good Water Farms perfectly complements Davison's personality and makeup as a human. His greenhouse is a sea of green that surrounds him, practically vibrating with vitality. When not in his greenhouse or dropping off greens to his chef or customers, Davison will surf the coves of Montauk and the beachbreaks of Bridgehampton whenever the area sees a swell come through. He surfs to bring balance into his being, to let go of the mental and enter into a primordial state of consciousness. He actually grows to surf.
Good Water Farms was founded in 2011 by Brendan Davison in Amagansett, New York. The farm now sits on 32-acres in Bridgehampton, NY, and grows over 30 varieties of microgreens. The farm received Biodynamic® designation as of December 2017, is proud to be United States Department of Agriculture (USDA) and Northeast Organic Farming Association (NOFA) Certified Organic, as well as Hazard Analysis and Critical Control Points (HACCP) verified. To learn more, visit www.goodwaterfarms.com or connect via social media @goodwaterfarms.
Featured Product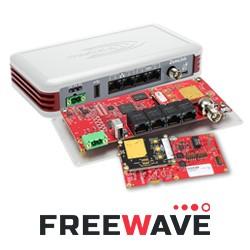 Power even your most remote agricultural operations with real-time data to manage your crops and livestock like never before. With edge intelligent ZumLink IQ radios, you get an all-in-one system that combines sensors, wireless connectivity and process control-without the need for Ethernet or SCADA. So you can enjoy farm-fresh data that's always in season