Jain Monitoring and Control combines Puresense and Observant products, provides new infiltration rate chart giving growers the ultimate tool for managing water and fertilizer within the root zone and supports flow meter monitoring and associated water reports directly sent to water districts.
Jain Irrigation, Inc., ("Jain"), today announced the formation of their Field Monitoring and Control product platform, Jain Logic™. Jain Logic™ is the new face of Jain Irrigation, Inc.s cloud-based precision irrigation offering. Jain Logic™ is the permanent crop platform for managing critical ranch attributes. After the successful acquisition of Observant in February 2017, Jain combined the strengths of their industry-leading PureSense cloud platform with the award-winning power and flexibility of the Observant Solo and C3 field stations. Customers can now access all the analytic insights from this integrated product line and the field-ready strength of the industry's best hardware.

The combined product provides a new infiltration rate chart giving growers the ultimate tool for managing water and fertilizer within the root zone, helping deliver more crop per drop of water.
Jain Logic™ also provides flow meter monitoring and associated water reports directly sent to water districts. Many states are taking steps to make reporting water use in Agriculture mandatory. Jain Logic™ makes this process quick and easy for growers saving time and labor.
"Technology and innovation are core focus areas for Jain," said Aric Olson, President of Jain Irrigation, Inc. "With Jains backing, farmers will have access to the best technology and the backing of a 30-year-old company with 11,000 associates. Jain has access to over ten years of irrigation data for multiple crops in a wide variety of field and weather conditions. This data is easily accessible to growers helping them make better decisions concerning water and fertilizer use to maximize yields. This accumulation of data is an excellent example of big data use for precision irrigation. "
"In combination with our complementary products technologies from the United States, Australia, India, and Israel, we have unmatched capabilities to help farmers deliver on our promise of 'More Crop per Drop," said Anil Jain, Managing Director of Jain Irrigation Systems Limited.
Additional Key Features and Benefits of Jain Logic™
1. Irrigation Scheduler - A scheduling tool based on a forecast of ETo with the ability to work with crop co-efficient tables. Creates and distributes a schedule by print or email.
2. Infiltration Tool - Tracks and visualizes water and nutrient movement thru the soil profile. Growers can quickly assess irrigation performance.
3. Weather Forecasting with ETo forecasts. Irrigation decisions concerning rain will be more accurate.
4. Dynamic mapping showing current field moisture and pump status.
5. Powerful alerting application-providing alerts from any sensor or status of site communication. Allows for rest periods and scheduling of alerts.
6. Timeline tools for note taking tracked to device or region. Allows for uploading photos and documents.
PureSense was founded in 2006 by farmers looking for better ways to understand crop conditions, impacts of weather, drivers of disease, and ultimately make better-growing decisions. The company was at the forefront of field monitoring solutions and irrigation management strategies that enabled growers to make fast field decisions within an easy-to-use software interface.
Observant is a world leader in providing in-field hardware and cloud-based applications for precision farm water management. Observant combined broad field monitoring and control technology to increase crop yields while, at the same time, responsibly and profitably manage limited resources.
About Jain Irrigation (http://www.jains.com, http://www.jainsusa.com)
Jain is a fully integrated global food / plant production company recognized by Harvard Business to be one of five global sustainability champions, and the G-20 for lifting people out of poverty. Our irrigation manufacturing capabilities include everything from behind the pump to the flush valve at the end of the lateral and everything in between including drip irrigation. We lead the industry in manufacturing technology, owning both our extrusion and mold manufacturing equipment providers. Jain leads plant science research globally across a variety of food crops and is staffed with some of the worlds leading research scientists. With the Gandhi Library, Jain now houses the leading collection of the worlds best plant science knowledge in a single facility. Our agronomic knowledge is integrated from our world-class tissue culture operations through our food processing businesses. We research, educate, advance, manufacture, finance, propagate plants, and purchase produce for processing all in an effort to fulfill the Jain mission, "leave this world better than you found it."
Featured Product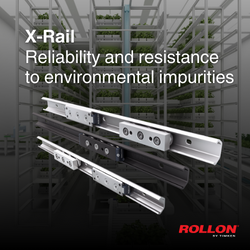 Rollon's X-Rail linear rails are a reliable solution in environments susceptible to impurities. Equipped with rolling elements with shaped and flat raceways, they are available in several versions: galvanized, nitrided or stainless-steel sheet metal. The latter version ensures total corrosion resistance, which is critical for hostile environments such as those found in vertical farming. Particularly innovative is the T + U configuration of the X-Rail linear rails, which can compensate for the parallelism errors of mounting surfaces. This simplifies installation and reduces costs.