-Advancements in science and technology are fueling the need for skilled graduates in the field of agriculture - by 2020 the demand for qualified college graduates in these areas is expected to increase - With nearly 60,000 annual job openings in the agriculture industry and not enough qualified college graduates to fill them, the Grow Ag Leaders program is partnering with farmers to identify and support the future leaders within the industry. - Now through Feb. 1, students can apply for a Grow Ag Leaders scholarship, sponsored by the Monsanto Fund, for a chance to win $1,500 to pursue a degree in an ag-related field. - Grow Ag Leaders will award more than $500,000 in scholarships to students in 2018.
ST. LOUIS, Nov. 28, 2017 /PRNewswire/ -- With the number of new job openings expected to increase this year, college graduates may find themselves at an advantage for landing their first full-time job. One of the areas that may provide some of the most opportunity could come from an industry that few might expect - agriculture. What students might not know is agriculture majors offer a wealth of job opportunities in a wide array of areas, and the pace of job growth is expected to sustain momentum.

To help develop tomorrow's leaders, the America's Farmers Grow Ag Leaders program, sponsored by the Monsanto Fund, will partner with farmers to award more than $500,000 to deserving students pursuing ag-related degrees in 2018.
Administered by the National FFA Organization (FFA), these scholarships are awarded in $1,500 increments to students looking to pursue post-secondary education in an ag-related field of study. Eligible fields of study are not solely limited to "traditional" ag-related fields, such as farming and agronomy, but also include education, engineering, mathematics, data science, and communications, among many others.
Through 2020, the U.S. Department of Agriculture projects 57,900 new food and ag jobs annually, but a talent shortage will result in nearly 22,500 going unfilled. With agriculture continuing to become more technologically advanced, many of the career paths in the industry will follow suit. According to FFA, STEM-focused careers will be among the top five in ag by the end of the decade:
Food Scientists improve food products and create new ones using scientific principles that help maintain a wholesome food supply.
Precision Agriculture Technologists teach farmers how to work better, not harder, by using new technologies that increase crop yields and decrease inputs.
Agriculture Communicators are industry advocates who share the story of agriculture and engage the public to better understand it.
Hydrologists protect the environment and promote sustainability, while helping supply the world with clean, safe water.
Drone Technologists show farmers how to increase yields and reduce crop damage using sensors, robotics and images from the air.
"Thanks to technological and scientific advancements, the agriculture industry is evolving faster than ever before," said Al Mitchell, Monsanto Fund President. "With the help of farmers, the Grow Ag Leaders scholarship program supports students who will grow to become the future leaders of the agriculture industry, regardless of their emphasis area."
Grow Ag Leaders scholarships are open to students 23 years of age and under who live in eligible counties, and are looking to enroll or are currently enrolled in trade schools, community colleges and four-year universities. Students need not be FFA members to apply. The deadline for students to apply is February 1, 2018 and students must obtain two farmer endorsements of their application by February 8, 2018.
Since the Grow Ag Leaders program began in 2014, it has awarded nearly $1.7 million in scholarships to promising students pursuing their education in agriculture. A complete list of program rules, eligibility requirements and information on the program is available at www.GrowAgLeaders.com.
About America's Farmers
The America's Farmers campaign highlights the importance of modern U.S. agriculture through communications and community outreach programs that partner with farmers to impact rural America. To learn more, visit America's Farmers at www.AmericasFarmers.com.
About the Monsanto Fund
The Monsanto Fund, the philanthropic arm of Monsanto Company, is a nonprofit organization dedicated to strengthening the communities where farmers and Monsanto Company employees live and work. Visit the Monsanto Fund at www.MonsantoFund.org.
Featured Product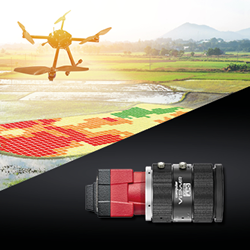 Allied Vision's compact and light weight Alvium SWIR (short wave infrared) cameras are the ideal choice to build cost-effective OEM systems used in embedded and machine vision applications. The cameras support a spectral range from 400 nm to 1700 nm at high quantum efficiencies. This allows to capture images in both the visible and SWIR spectra with a single camera and enables users to reduce overall system costs! Equipped with Sony's IMX990 and IMX991 SenSWIR InGaAs sensors, Alvium SWIR cameras deliver high image quality and frame rates. This makes them well suited for drones or handheld devices used in various industries such as, agriculture, mining, solar cell inspection or medical.