Company Cuts Greenhouse Gas Emissions By More Than 200,000 Metric Tons, Expects Portfolio Approach To Accelerate Future Reductions
ST. LOUIS--(BUSINESS WIRE)--As society, businesses and governments around the world face the complex challenges associated with climate change, Monsanto Company today announced at COP23 significant progress toward making its operations carbon neutral by 2021, a commitment it made in December 2015. By making operational improvements and utilizing its unique portfolio of climate-smart modern agriculture tools and practices, Monsanto has already reduced its carbon footprint by more than 200,000 metric tons, a reduction that is roughly equal to burning 200 million pounds less coal. The company expects the rate of these reductions to accelerate over the next several years and is collaborating with farmers, NGOs and global partners to encourage the adoption of climate-smart practices across the agriculture industry.

"Farmers have been, and will continue to be, a positive force in adapting to and mitigating climate change," said Hugh Grant, Monsanto chairman and chief executive officer. "Weve made progress in the reduction of our own carbon footprint, we want to lead by example and demonstrate the enormous potential that modern agriculture has in shrinking the industrys global carbon footprint. Great strides have already been made, but to sustainably meet the food, fuel and fiber needs of 9.6 billion people by 2050, we must work collectively to do even more."
Monsantos approach for achieving carbon neutrality focuses on three main areas: 1) internal operations, including seed production; 2) breakthrough products; and, 3) joint efforts with farmers and global partners.
A common denominator across Monsantos approach is the role of crops and healthy soil in adapting to and mitigating climate change. Working with outside experts in data science on extensive modeling, Monsanto has demonstrated that certain modern agriculture practices and innovations can reduce emissions and enable crops to be grown in a way that absorbs and stores greenhouse gases in the soil in amounts equal to or greater than the total amount of gases emitted from producing those crops.
"Many of the practices that reduce greenhouse gas emissions are quite beneficial for preserving natural resources, enhancing the efficiency of utilization of nutrients and positively impacting water and air quality," says Debbie Reed, Executive Director of the Coalition on Agricultural Greenhouse Gases. "Increasing soil health and soil carbon is one major way that we can reduce greenhouse gases, and agriculture clearly has a role to play there. Its related not only to natural resources, but our ability to feed and sustain growing populations all over the world. Theres an interconnectivity there that is fairly unique to the agricultural sector."
Internal Operations
Monsanto has focused on working with the farmers who grow seed for the companys seed production operations as an initial source for reductions.
By adopting climate smart crop production practices, such as conservation tillage and cover crops, contract growers have already reduced greenhouse gas emissions from the companys contract seed growing operations by 85 percent, keeping and removing nearly 145,000 metric tons of greenhouse gases from the atmosphere each year. The company aims to reduce emissions from its seed production operations to zero.
Within its own facilities and manufacturing operations, Monsanto has:
Pledged to reduce greenhouse gas emissions intensity by 22 percent from crop protection operations by 2020 - and has already achieved 89 percent of that goal.
Made investments in energy efficiency, cleaner and renewable energy, improved logistics and other projects, which reduced greenhouse gas emissions by nearly 80,000 metric tons.
Breakthrough Products
Among the most promising avenues for achieving its carbon neutral goal and helping to reduce the overall footprint of agriculture, are the breakthrough products Monsanto has introduced. The company is working internally and with experts to quantify the greenhouse gas reduction value of these products.
Innovative Seed Treatment Products. Farmers use seed coatings to protect and promote healthier root systems that increase yield potential and enable better nutrient uptake and carbon storage.
Acceleron® B-300 SAT. Corn treated with Acceleron® B-300 SAT, the first jointly-produced product from the BioAg Alliance, a partnership between Monsanto and Novozymes, was planted on more than 4 million acres in just its first year of availability. Biological products like Acceleron® B-300 SAT can increase nutrient availability, which can lead to enhanced root and shoot development, supporting greater stress tolerance and earlier, more uniform development, leading to an increased yield potential and better ability to absorb and store carbon.
Climate FieldView™. The Climate Corporation, a subsidiary of Monsanto, offers the Climate FieldView™ platform, which among other digital insights provides a variety of data-driven digital tools to help farmers better understand the variability in their fields so they can optimize the placement of key inputs to improve on-farm productivity. Notably, Climate FieldView offers fertility management tools to help farmers use nitrogen more efficiently, reducing potential impacts from greenhouse gas emissions.
Joint Efforts with Farmers and Global Partners
Monsanto is also investing in field development trials and joint efforts with several agriculture retail partners to provide more than 100 U.S. on-farm trials and learning experiences with modern agriculture practices (use of cover crops, digital tools, and reduced tillage) that allow farmers to play an increased role in environmental stewardship and be recognized for their efforts. The company will survey the participants to measure outcomes.
More information on Monsantos commitment to sustainability, modern agriculture and its work with industry and NGO collaborators to increase adoption of climate-smart practices by farmers around the world can be found in the Monsanto Sustainability Report, Growing Better Together.
About Monsanto Company
Monsanto is committed to bringing a broad range of solutions to help nourish our growing world. We produce seeds for fruits, vegetables and key crops - such as corn, soybeans, and cotton - that help farmers have better harvests while using water and other important resources more efficiently. We work to find sustainable solutions for soil health, help farmers use data to improve farming practices and conserve natural resources, and provide crop protection products to minimize damage from pests and disease. Through programs and partnerships, we collaborate with farmers, researchers, nonprofit organizations, universities and others to help tackle some of the worlds biggest challenges. To learn more about Monsanto, our commitments and our more than 20,000 dedicated employees, please visit monsanto.com.
Featured Product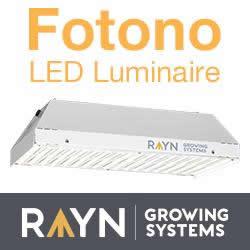 Fotono is a full spectrum LED horticultural luminaire designed to directly replace HPS lights in greenhouses. At 12 pounds, 20 inches long, and 5 inches high, Fotono's compact size makes installation simple while minimizing structural burden on greenhouses. This compact fixture packs energy-saving and yield-improving features, such as a high output, stepless dimming, advanced spectral capabilities, and more.