Company Announces First Lightweight, Sustainable Horticulture Grow Light for Fast-Growing Cannabis Industry
WEST WARWICK, R.I.--(BUSINESS WIRE)--Cannabis and agriculture innovator VividGro®, a division of distinguished LED company Lighting Science®, announced today their latest breakthrough: A four-foot, 19 ounces, white light LED grow lamp called the GroBar™. One 4 foot GroBar linear luminaire can replace two HO 54 W T5 bulbs, providing a better spectrum for your plants while using less materials than competing products. The GroBar is a true breakthrough for all home-growers and horticulturists, especially those who experience high energy costs as their operations expand in the booming cannabis industry.

"This is the type of LED solution that cannabis growers have been waiting for. The GroBar is a no-brainer for anyone looking to switch from traditional fluorescents or 60 pound grow lamp troffers," said David Friedman, President of VividGro. "The GroBar costs 50% less per input watt than other LED grow linears while providing 4500 lumens of visible light per 30 W GroBar as well as generating 2.1 μmol/J for maximizing the growth and strength of plants. Thats pretty incredible performance for a lamp weighing in at a mere 19 ounces." A three-light kit has higher photosynthetically active radiation ("PAR") levels and uses 60% less power usage than T5 fixtures that use six 54 W HO bulbs.
In fact, thanks to innovative engineering, the GroBar is also a model of sustainable lighting design. The innovative luminaire uses about 95% less material than a standard 2x4 troffer, which can weigh anywhere from 25 to 60 pounds. In addition, the GroBars trim profile requires 80% less packaging, significantly decreasing associated product waste.
Ease of Installation, Wet Rating Makes the GroBar a Mount-Anywhere Problem-Solver
Thanks to robust polymer construction, the GroBar is a snap to install and so lightweight that it can be suspended or mounted directly to the ceiling, making it the perfect solution for difficult-to-light spaces. Unlike traditional LED and legacy fluorescents, the problem-solving GroBar is also splash-rated, so horticulturalists installing the lights in damp environments can rest assured they will not experience outages or disruptions throughout the grow cycle.
The GroBar is currently available for large scale installations to commercial growers, distributors and wholesalers. For small commercial growers and retail/home grow applications, the GroBar is available for pre-order and expected to be in stock early 2018. The revolutionary GroBar will ship with flush mount hardware clips that allow for fast and clean direct mounting. Additional brackets to create a three-light fixture are optional.
The VividGro GroBar is available for sale by visiting www.vividgro.com, by contacting our sales department at sales@vividgro.com, or by calling 1-800-891-3705.
About VividGro
VividGro®, the groundbreaking horticultural LED division of Lighting Science, is a pioneer in the AgTech space. Tailored to the automation and efficiency within indoor agriculture and horticultural markets, VividGro® implements solutions that help Growers grow in the most efficient way possible. Our state-of-the-art VividGro® lighting product line delivers optimized PAR to maximize plant growth and PAR efficacy, while also providing light suitable for the human visual system and excellent color penetration. In addition, unlike other LED grow lights, VividGro distinguishes itself from its industry peers by helping growers learn how to use their resources. It's not the lights you use it is how you use them. Learn more about VividGro on our website at www.VividGro.com and join us on social media at Facebook, Twitter, and Instagram.
About Lighting Science
Lighting Science® is a global leader in innovative LED lighting solutions that designs, manufactures and brings to market advanced, intelligent products for consumer and commercial applications. Lighting Science is creating biological, horticultural and urban lighting solutions with products such as GoodNight®, GoodDay®, and Sleepy Baby® LED bulbs and the groundbreaking horticulture light, the GroBar™. Lighting Science has won numerous awards, including several Business Intelligence Group (BIG) Sustainability Awards, Edison Awards, Sapphire Awards, and the IES Illumination Award. For their patented technology products, Lighting Science won Popular Science Magazines 2016 Best of What New Award, Architects Newspaper Best Products of 2016, and Architectural Record 2016 Product of the Year. Lighting Science has more than 400 patents to date, and are experimenting with new uses for LEDs ranging from air purification to enhancing vision. Lighting Science is headquartered in Rhode Island, with research and development facilities in Florida. Learn more at www.lsgc.com and join us on Facebook, Twitter, LinkedIn and the Lighting Science Blog.
Featured Product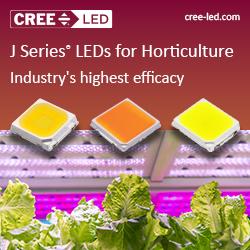 Horticulture and other forms of agricultural lighting require application-tuned ratios of spectral content, high efficacy and long lifetimes. Since these systems are designed to maximize yields for plants and animals, they require different metrics than lighting products designed around the human visual system. Cree LED delivers a wide range of spectral options and products optimized for these applications with leading efficiency and reliability.