Workhorse exhibit will also feature public unveiling of N-Gen low delivery-platform electric van with integrated HorseFly™ drone, and first electric pickup truck by an OEM
CINCINNATI, Nov. 6, 2017 /PRNewswire/ -- Workhorse Group Inc. (NASDAQ: WKHS), an American technology company focused on providing sustainable and cost-effective solutions to the commercial transportation sector, today announced it will showcase three technology firsts at 2018 CES in Las Vegas January 9-12: 1) The SureFly™ Octocopter, the world's first personal electric octocopter; 2) the W-15 electric pickup truck, the first electric pickup from an OEM; and 3) the new N-Gen low delivery-platform electric delivery van.

"CES is the perfect technology venue for us to showcase our three new technology firsts," said Steve Burns, Workhorse CEO. "We know technology-informed people come to CES from all over the world, and we are very excited to show them our SureFly, our low delivery-platform electric N-Gen van, and our W-15 electric pickup!"
SureFly, the world's first personal hybrid electric octocopter, was first unveiled internationally at the Paris Air Show in June. Its appearance at CES will be its first public technology innovation showing in the United States. The Workhorse display will be located on the Central Plaza at Booth #31, prominently displayed near the main entrance of the CES show.
SureFly engineers have re-invented the helicopter. The SureFly aircraft is designed to be safer and more stable than a typical helicopter. Its redundant design includes four propeller arms, two fixed contra-rotating propellers on each arm, a backup battery pack to drive the electric motors in the event of engine failure and a ballistic parachute that safely brings down the craft if needed. The SureFly is currently securing flight approval from the FAA.
SureFly's hybrid design leverages Workhorse's platform battery packaging, management systems and controls utilized in its currently commercialized medium-duty, range-extended battery electric vehicles. It features an aircraft gas combustion engine generating electricity and a parallel battery pack offering a redundant backup power source. This unique overall power system design eliminates the need for long battery charging periods between flights. Pilots who have seen the SureFly like the easy-to-pilot design, as the aircraft is piloted by joystick in a similar fashion to flying a drone. The SureFly is expected to be capable of carrying pilot and passenger or cargo up to 70 miles. After a quick refill, SureFly is ready for the next hop.
Early models will be pilot-operated. The goal is to introduce future models featuring autonomous flight capable of carrying payloads of up to 400 pounds. Anticipated markets for the SureFly are precision agriculture, emergency responders, city commuters and the military. The expected price of the SureFly is approximately $200,000, and Workhorse is currently accepting pre-orders for the aircraft.
At CES 2018, Workhorse will also be unveiling its new N-Gen low-delivery platform electric delivery van, promising state-of-the-art package delivery. Never before seen in package delivery, the N-Gen low-delivery platform electric delivery van features an ultra-low 19-inch floor to maximize cargo space, reduce knee injuries and enhance ease of operation. Quiet and powerful, it will deliver an anticipated range of 100 miles, with an optional gasoline range extender adding 75 more miles. In early on-road testing, the N-Gen has demonstrated 62 MPGe efficiency. The N-Gen low-delivery platform electric delivery van is scheduled to begin package deliveries for a large e-commerce company within the next two months.
As an option, the N-Gen features an integrated HorseFly™ Unmanned Aerial Vehicle Delivery System. The carbon-fiber, high-efficiency octocopter drone launches from the roof of the N-Gen delivery van and delivers a package to its destination within the driver's line of sight. The patent-pending truck and drone HorseFly system is compliant with all current FAA regulations, and can carry a package weighing up to 10 pounds with an energy cost of approximately $.03 per mile for electricity.
Additionally, Workhorse will be showcasing the W-15 at CES. The W-15 is believed to be the first electric plug-in pickup truck made in America by an original equipment manufacturer (OEM), and has been designed to reflect features and benefits fleets are looking for in a work truck. Panasonic 18650 Li-on batteries deliver an 80-mile all-electric range. If needed, an on-board gasoline generator will then extend the range. Workhorse currently has over 5,000 W-15 vehicles under Letter of Intent from fleets.
"CES has always been known to bring technology firsts in America," Burns said. "Workhorse is proud to be a part of that tradition."
About Workhorse Group Inc.
Workhorse is a technology company focused on providing sustainable and cost-effective solutions to the commercial transportation sector. As an American original equipment manufacturer, we design and build high performance battery-electric vehicles including trucks and aircraft. We also develop cloud-based, real-time telematics performance monitoring systems that are fully integrated with our vehicles and enable fleet operators to optimize energy and route efficiency. All Workhorse vehicles are designed to make the movement of people and goods more efficient and less harmful to the environment. For additional information visit www.workhorse.com.
Featured Product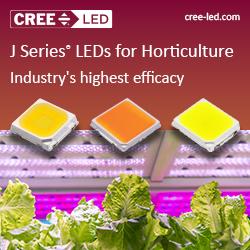 Horticulture and other forms of agricultural lighting require application-tuned ratios of spectral content, high efficacy and long lifetimes. Since these systems are designed to maximize yields for plants and animals, they require different metrics than lighting products designed around the human visual system. Cree LED delivers a wide range of spectral options and products optimized for these applications with leading efficiency and reliability.