Seven new, water-efficient Rain Bird products will be featured in the annual New Product Contest and at Booth #709 at the 2017 Irrigation Show and Education Conference to be held November 6-10 in Orlando, FL.
Seven new, water-efficient Rain Bird products will be featured in the annual New Product Contest at the 2017 Irrigation Show and Education Conference to be held November 6-10 in Orlando, FL. The contest is one of the most popular features of the show, giving thousands of attendees a first-hand look at the newest products and technologies in the irrigation industry.

"Every year, the Irrigation Show gives us an ideal opportunity to present our latest innovations to irrigation professionals from across the globe," said Alex Nathanson, Rain Birds corporate marketing brand manager. "This year, were excited to feature more new and improved products than ever before. Rain Bird is the only irrigation manufacturer to offer three WiFi-capable controllers and a quick WiFi upgrade option, plus innovative new check valve dripline and a low flow agricultural sprinkler, all designed to simplify irrigation and give customers more choices to manage water intelligently."
Rain Birds New Product Contest entries will be on display in the New Product Contest area at the Irrigation Show, as well as at Rain Birds booth, #709.
Rain Birds 2017 entries include:
LNK WiFi Module. This plug-and-play WiFi accessory upgrades Rain Birds ESP-TM2, ESP-Me and ESP-RZXe controllers to WiFi capability. It gives homeowners and contractors the freedom to enable WiFi control at installation or to upgrade to WiFi later by simply inserting the module into the accessory port on their controller and downloading a free mobile app. Customers can manage irrigation from their mobile device, anywhere, anytime. Theyll also receive alerts and access to advanced water management tools like automatic seasonal adjustments based on the weather.
ESP-Me WiFi Compatible Modular Controllers. This EPA-WaterSense-approved* modular controller combines the scalability of 4-22 zones with the convenience of WiFi compatibility. By simply adding Rain Birds new LNK WiFi module, users can monitor and adjust their irrigation schedules from their mobile devices. Automatic seasonal adjustments based on weather data can reduce water use by up to 30%. A quick front panel swap also allows customers to upgrade and add WiFi compatibility to older, installed ESP-Me controllers built before Nov 2016. (*Note: EPA WaterSense Approved when installed with LNK WiFi module and Rain Bird rain sensor.)
ESP-TM2 WiFi Compatible Controller. This easy-to-use indoor/outdoor residential controller can also be upgraded to WiFi capability with the addition of Rain Birds new LNK WiFi module for convenient, mobile adjustments via smart phone or tablet. The ESP-TM2 is ideal for new homebuilders looking for an economical option that still provides future homeowners with the option to have a connected home.
ESP-RZXe WiFi Compatible Controller. This economical residential and light-commercial controller is available in international markets outside the U.S., Canada and Mexico. Its large, LCD screen offers simple, zone-based scheduling for 4, 6 or 8 zones. By adding Rain Birds new LNK WiFi module, users can adjust the controller from their mobile devices at any time.
LFX300 Low-Flow Sprinkler. This agricultural sprinkler is ideal for under-tree or overhead irrigation configurations, including orchard and field irrigation, environmental control, crop cooling and dust control. The LFX300 features a simple, three-part design thats customizable, with two body-mounting options, five standard flow nozzles, two flow-control nozzles and three preassembled brake assemblies with attached color-coded deflectors. By top-mounting the brake assembly, as well as the snap-in-place nozzles, the LFX300 can easily be maintained while the system is under pressure without any special tools required.
XFS-CV Dripline. Copper Shield Technology protects the XFS-CVs emitters from root intrusion without the use of harsh chemicals or treated filters. A heavy-duty, 4.0-psi check valve keeps the dripline charged with water in elevation changes of up to ten feet - the highest hold-back in the industry. XFS-CV can be used on sloped areas, level areas, above ground and below, making it possible to implement efficient, low-volume irrigation just about anywhere.
ESP-9V / WPX Battery-Operated Controllers. This small, battery-operated controller provides efficient, automatic irrigation in areas without ready access to electrical power, operating reliably even in the harshest conditions. In testing, it lasted up to two years longer than leading battery-operated controllers on the market today. The ESP-9V / WPX also offers water-saving features not common to most battery-operated controllers. ESP-9V models are available in the US, while WPX models are available internationally.
"We hope that Irrigation Show attendees will make their way over to visit with our product experts at booth #709 and check out all our new offerings," Nathanson said. "From residential and commercial solutions to low-volume drip, agriculture and more, our booth is packed with solutions that embody The Intelligent Use of Water."
To learn more about Rain Birds complete line of water-efficient products or to find a distributor near you, visit http://www.rainbird.com. For more information about the 2017 Irrigation Show, visit http://www.irrigation.org/2017Show.
ABOUT RAIN BIRD:
Based in Azusa, Calif., Rain Bird Corporation is the world's leading manufacturer and provider of irrigation products and services. Since its beginnings in 1933, Rain Bird has offered the industry's broadest range of irrigation products for farms, golf courses, sports arenas, commercial developments and homes in more than 130 countries around the globe. Rain Bird has been awarded more than 450 patents worldwide, including the first in 1935 for the impact sprinkler. Rain Bird and The Intelligent Use of Water™ are about using water wisely. Its commitment extends beyond products to education, training and services for the industry and the community. Rain Bird maintains state-of-the-art manufacturing assembly facilities in the United States, China and Mexico. http://www.rainbird.com.
Featured Product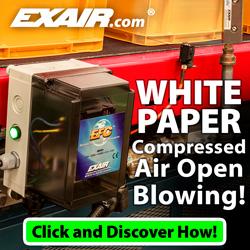 Compressed air is a limited resource that is generated in-house for the benefit of many operations within the manufacturing environment. Learn how to ensure all point of use applications are using your compressed air in the most effective and efficient way possible. Learn how much it costs to produce that compressed air and how Engineered Nozzles can help you use your air more effectively and efficiently.