Agrotop will demonstrate several completed projects which were specifically designed to resist extreme heat and adapt to varying humidity conditions in India
Agrotop, a leading global player in livestock turnkey projects, will exhibit at Poultry India 2017, which will take place November 22-24 at Hitex, Hyderabad, India. Participating for the tenth time, Agrotop will focus on full Vertical Integration solutions at the exhibition.

Visitors who are interested in advanced poultry project solutions are invited to visit Agrotop's Stall Q13-Q15 in Hall 3 to learn more about the company's line of solutions for livestock construction projects.
With more than 60 years of experience and successful turnkey construction projects in more than 50 countries, Agrotop's poultry farming projects will be on display demonstrating its tailor-made solutions which integrate engineering, construction and technological disciplines.
Agrotop has acquired extensive experience in successfully completing complicated projects in difficult climate zones. Among others, the company has completed three projects, which were especially designed to address extreme heat and varying humidity in India.
The first project included growing 150,000 broilers at a farm located near Hyderabad in an area with extreme weather conditions and unreliable electric infrastructures.
Suguna Foods, one of India's largest broiler meat companies, chose Agrotop to design and construct its first modern broiler project consisting of six large houses equipped with modern feeding and operation systems.
The second project is 600,000 layers and 200,000 pullets, for Amrit in West Bengal. Each house 100,000 birds.
Another project included the design and building of a climate-controlled, deep-litter, heavy breeders' farm. The project, in the Tamil Nadu state, is a pilot farm for VH, the largest breeding company in India.
"India is a one of the fastest-growing poultry markets in the world as chicken consumption is constantly rising," said Gavriel Pelleg, Agrotop's CMO and founding partner. "We have already proven our ability to successfully carry out vertical integration projects in India and intend to further expand our presence in the local market."
About Agrotop
Agrotop is a leading global player in livestock turnkey projects. The company provides a full range of services for realizing livestock and agro-industry construction projects, while focusing on its clients' visions and maximizing their business results.
For more information on Agrotop, visit http://www.agrotop.co.il/
Featured Product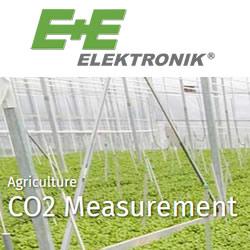 Lowering of energy costs, acceleration of growth and extension of the possible storekeeping duration can be optimised by the precise measurement of humidity, CO2-content and temperature. Optimum basic conditions for animals and plants ensure best agricultural products. As different applications demand various adopted solutions for optimization of agricultural processes, E+E Elektronik provides a broad portfolio of agricultural monitoring products