Low Power Wide Area (LPWA) technologies will enable millions of new connections for industrial automation, logistics and agriculture within the next few years, according to ON World.
Low Power Wide Area (LPWA) technologies will enable millions of connections for industrial automation, logistics and agriculture within the next few years, according to the latest report by global IoT research firm ON World.

"In addition to enabling new markets and services, LPWA technologies are disrupting industrial IoT by giving sensors multi-year battery lifetimes and multiple mile ranges," said Mareca Hatler, ON Worlds research director. "LPWA hybrid devices that combine two radios-- licensed and unlicensed-- are a growing opportunity for IoT developers to extend industrial wireless sensing and asset tracking solutions."
Unlicensed LPWA Networks Expand Worldwide
Much of Europe and many parts of the Asia Pacific region are covered by Sigfox and LoRa networks with LPWA services offered by key telecom operators such as Arqiva, Bouygues, Orange, KPN, Proximus, Swisscom as well as dedicated IoT operators such as Thinxtra in Australia. In the U.S., LoRa will have the largest private unlicensed industrial LPWA network growth and LTE-M1 will do the same for licensed public networks.
Enter LTE-Cat M1 and NB-IoT
LTE-M1 chip suppliers and network developers have created several power saving techniques that have achieved 5+ years of device battery lifetime. With 100 millisecond latency levels and 1 Mbps data rates, LTE-M1 will be able to capture a large slice of LPWA Industrial IoT. LTE-M1 networks will soon cover the U.S. as well as much of Asia and Australia. NB-IoT will also be a key industrial LPWA technology but incompatible protocols and the LTE-M1 development focus by 4G network providers will push large deployments out several years.
Multi-radio modules are creating new opportunities for industrial IoT developers. The first variations are multi-radio LPWA modules with integrated short-range radios such as Bluetooth Low Energy (BLE) and 802.15.4. Another trend is hybrid LPWA chipsets/modules that have two LPWA radios: a low bit rate radio for long device lifetime functions and a high bitrate low latency radio for advanced functions and over-the-air updates. For example, GCT Semiconductor provides an integrated single chip with Sigfox and LTE-M1/NB1.
In 2025, industrial connected wireless sensing, tracking and control devices will approach half a billion up from 35 million in 2016. LPWA technologies such as LoRa, Sigfox, LTE-M and NB-IoT will make up most of this growth and will make up 1 in 4 of the connections by this time.
For more information about ON Worlds report, "Industrial LPWA," go to: https://www.onworld.com/iLPWAN
About ON World:
ON World (http://www.onworld.com) provides global business intelligence on Internet of Things markets.
Featured Product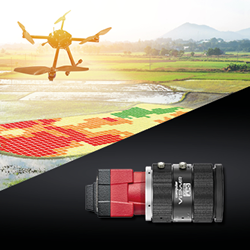 Allied Vision's compact and light weight Alvium SWIR (short wave infrared) cameras are the ideal choice to build cost-effective OEM systems used in embedded and machine vision applications. The cameras support a spectral range from 400 nm to 1700 nm at high quantum efficiencies. This allows to capture images in both the visible and SWIR spectra with a single camera and enables users to reduce overall system costs! Equipped with Sony's IMX990 and IMX991 SenSWIR InGaAs sensors, Alvium SWIR cameras deliver high image quality and frame rates. This makes them well suited for drones or handheld devices used in various industries such as, agriculture, mining, solar cell inspection or medical.