Enhancements Provide SaaS-based Advanced Analytics for Multimodal Mobility
SANTA ANA, Calif.--(BUSINESS WIRE)--Iteris, Inc. (NASDAQ: ITI), the global leader in applied informatics for transportation and agriculture, today announced the availability of a series of advanced analytics features with the Fall release of Iteris iPeMS®. iPeMS is a leading data visualization performance measurement platform deployed across 13 states and two countries, covering more than 105,000 roadway miles.

Over the last 12 months, Iteris has added significant new analytics features to iPeMS, including: real-time bottleneck detection for linear and branching bottlenecks; animation tools for historical data analysis; Connected Citizens support for Waze incident analysis; and implementation of a dynamic MAP-21 dashboard to support required federal performance measurement. The software also includes features that measure the financial and economic impact of congestion and delay. Additionally, Iteris has refactored the iPeMS database and interface layer to deliver the application on a SaaS basis. This has reduced the time and effort to deploy iPeMS, as well as enabled Iteris to offer distinct product tiers based on the different needs of its customers.
"We are pleased with the strong customer response to our offering of the industrys most sophisticated performance analytics on a fully SaaS basis," said Ramin Massoumi, senior vice president and general manager of Transportation Systems at Iteris. "iPeMS enables transportation organizations to make smarter operational decisions for multiple modes of mobility and, also, serves as a powerful platform to analyze and monitor connected and autonomous vehicle information. Since we began refactoring the iPeMS application architecture for SaaS delivery a year ago, we have nearly doubled our municipal customer deployments."
Iteris is at the forefront of data analytics, data visualization, and communications technologies for transportation infrastructure. Designed to address transportation mobility and safety challenges, iPeMS is the industry leader in performance measurement.
About Iteris, Inc.
Iteris is the global leader in applied informatics for transportation and agriculture, turning big data into big breakthrough solutions. We collect, aggregate and analyze data on traffic, roads, weather, water, soil and crops to generate precise informatics that lead to safer transportation and smarter farming. Municipalities, government agencies, crop science companies, farmers and agronomists around the world use our solutions to make roads safer and travel more efficient, as well as farmlands more sustainable, healthy and productive. Visit www.iteris.com for more information.
Featured Product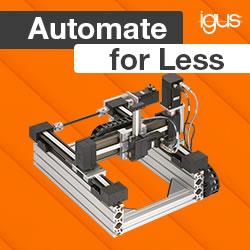 drylin® gantry robots consist of two base X-axes, a Y-axis, and an optional Z-axis. Their self-lubricating plastic liners have been engineered to slide instead of roll and to run smoother and quieter than recirculating ball bearings. drylin® gantries are also lightweight, corrosion-resistant, maintenance-free, and cost up to 40% less than traditional gantry robots. Visit this webpage to learn more.