Mouser Electronics has published a series of compelling e-books that provide in-depth views of leading-edge technology featured in the Shaping Smarter Cities series, part of Mousers award-winning Empowering Innovation Together program.
DALLAS & FORT WORTH, Texas--(BUSINESS WIRE)--Mouser Electronics Inc., the authorized global distributor with the newest semiconductors and electronic components, announces a series of compelling e-books that provide in-depth views of leading-edge technology featured in the Shaping Smarter Cities series, part of Mousers award-winning Empowering Innovation Together™ program.

The Shaping Smarter Cities series features exclusive videos, articles, and blog posts about how engineers on three different continents created technology-based solutions to some of most pressing problems of crowded cities. The following e-books provide a deeper dive into the technologies shown in the series, looking at how the worlds best engineers and experts foresee innovations shaping humanity over the coming years.
The Internet of Moving Things
Imagine being able to sleep or exercise in your car while it drives itself; the possibility may be closer than we think. The Internet of Moving Things e-book not only describes how revolutionary fully autonomous vehicles may be in the near future, but also explores the communications technologies that will allow these vehicles to interact with humans, other vehicles, and city infrastructure.
Vertical Farming
As shown in the Shaping Smarter Cities video, engineers in Tokyo have revolutionized vertical farming, devising a system that could feed millions of people while using 99 percent less water than traditional farming methods. The Vertical Farming e-book looks at different types of vertical farming as well as how robotics and other technologies can increase food production up to 100 times current levels.
Augmented Reality
Many people still think of augmented reality (AR) in terms of gaming, but the emerging technology is most promising in medical education, healthcare and even manufacturing and construction applications — all of which are covered with unique real-world examples in this e-book. With stories about AR as an alternative to invasive examinations and data visualization to increase workplace safety, the Augmented Reality e-book describes ways innovators are transforming the technology to improve conditions in our cities.
"The Shaping Smarter Cities series e-books enhance readers understanding of how these engineering feats are already changing the way we live," said Glenn Smith, President and CEO of Mouser Electronics. "Along with the videos, technical articles, and blog posts in the series, these e-books offer readers a holistic view of important emerging technologies."
The Shaping Smarter Cities series is supported by Mousers valued suppliers Analog Devices, Intel®, Microchip Technology and Molex. The series features the latest products from leading suppliers plus exclusive videos, articles, blog posts, and e-books related to the cutting-edge technologies used to create the cities of the future.
The Empowering Innovation Together program has been one of the most visible and recognized marketing programs in the electronic component industry, featuring projects ranging from bringing superhero technology to life to 3D printing a semi-autonomous car with drone technology. The focus of this years program is about solving tough problems that impact humanity as a whole. Visit http://www.mouser.com/empowering-innovation for more information.
About Mouser Electronics
Mouser Electronics, a Berkshire Hathaway company, is an award-winning, authorized semiconductor and electronic component distributor, focused on the rapid introduction of new products and technologies to electronic design engineers and buyers. Mouser.com features more than 4 million products online from more than 600 manufacturers. Mouser publishes multiple catalogs per year providing designers with up-to-date data on the components now available for the next generation of electronic devices. Mouser ships globally to over 550,000 customers in 170 countries from its 750,000 sq. ft. state-of-the-art facility south of Dallas, Texas. For more information, visit http://www.mouser.com.
About Grant Imahara
Well known in the engineering community, Grant Imahara has paired his engineering expertise with a Hollywood TV and film career. In addition to his roles on MythBusters and BattleBots, Imahara is the inventor behind many famous robotic characters, including the Star Wars prequel-era R2-D2, talking robot sidekick Geoff Peterson from The Late Late Show with Craig Ferguson, and the rhythmic arms on the modern-day Energizer Bunny.
Featured Product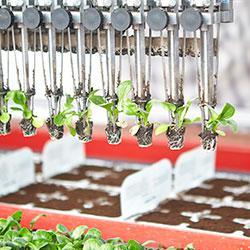 "Smart farming" is an important part of the answer to this existential question: Extremely high efficiency in food production through the targeted use of the latest technology, computer-supported and - where possible - fully automatic. Seeds are individually and precisely placed; fruits carefully picked by mechanical grippers; fertilizers and plant protection products applied in small doses and in a targeted manner. These operations require a large number of small electric motors that are both robust and powerful.