Contractors, Surveyors, Architects and Designers Will Use More than 50 Trimble Solutions on the Project
SUNNYVALE, Calif., Oct. 5, 2017 /PRNewswire/ -- Trimble (NASDAQ: TRMB) announced today that it has begun construction on a second building in Westminster, Colorado. With the capacity to accommodate over 1,100 workers, the Westminster campus will be Trimble's largest employment center and will continue to serve as a central business hub for several of Trimble's core market segments including agriculture, construction and geospatial. Construction is scheduled for completion in late 2018.

The Colorado construction will extend Trimble's U.S. and international footprint. The company currently has more than 9,200 employees in 39 countries in North America, Europe, South America, Africa and Asia. In the U.S., Trimble has facilities in 27 states with significant presence in California, Ohio, Minnesota and Oregon. The company's headquarters are in Sunnyvale, California.
The Westminster building project will showcase Trimble technologies, which improve efficiencies across the entire building lifecycle. Contractors, surveyors, architects and designers will use more than 50 Trimble solutions for the planning, construction and operational phases of the new facility. General contractor JE Dunn and trade partners in mechanical, electrical, plumbing, layout and concrete will use these capabilities to streamline their work and coordinate with other stakeholders in the building workflow—resulting in significant cost and schedule benefits. Project progress and the use of technologies can be monitored at: newbuilding.trimble.com.
"Trimble's comprehensive approach to civil and building construction technology makes it easier for our teams to communicate with each other, work more efficiently, and stay on schedule," said Vince Stellino, senior project manager at JE Dunn Construction. "We use Trimble technology on many of our jobsites, but it's an added bonus to have Trimble product teams on hand each day as we leverage the products they have developed for the construction of their own office building."
"Trimble's mission is to provide transformative solutions that impact every phase of a construction project and using our own facility as a demonstration project is an exciting opportunity," said Steven W. Berglund, president and CEO of Trimble. "For the duration of the project, we will be able to closely interact with all of the stakeholders, deepen our insight and utilize the learning in future solutions."
The building project will pursue a LEED Silver certification and will include an open design; ample co-working areas to provide flexibility for a highly mobile workforce; and a walkway connecting the two buildings. A large, multi-use space will open to an outdoor amphitheater, providing outdoor meeting space.
"There's a distinct focus on open, flexible spaces with touch-down work stations to help accommodate Trimble's highly mobile, global workforce," said Rick Petersen, principal at Denver-based OZ Architecture and lead engineer on the project. "The design also makes the most of both indoor and outdoor space, integrating the two buildings with areas to work, gather and hold meetings outdoors so Trimble employees can take full advantage of Colorado's climate and gorgeous views."
"Colorado's Denver-Boulder corridor complements our Silicon Valley corporate headquarters. Colorado has proven to be a strategic element in our U.S. operations since we opened our initial Westminster office in 2000 and completed the first building project in 2013," said Berglund. "The area attracts a desirable and growing pool of tech talent and provides an attractive quality of life to our employees. In addition, the region's tech-savvy, forward thinking has led to extensive use of Trimble technology. Colorado is a natural choice for expansion."
About Trimble
Trimble is transforming the way the world works by delivering products and services that connect the physical and digital worlds. Core technologies in positioning, modeling, connectivity and data analytics enable customers to improve productivity, quality, safety and sustainability. From purpose built products to enterprise lifecycle solutions, Trimble software, hardware and services are transforming a broad range of industries such as agriculture, construction, geospatial and transportation and logistics. For more information about Trimble (NASDAQ: TRMB), visit: www.trimble.com.
Featured Product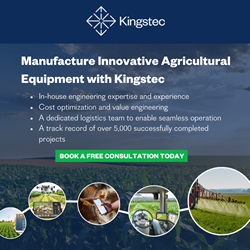 In the rapidly evolving agricultural landscape, leading AgriTech companies are increasingly leveraging the experience and expertise of strategic engineering and manufacturing partners to bring cutting-edge, cost-effective solutions to market. Kingstec is an all-in-one engineering, manufacturing, and logistics partner, with over 40 years of experience and 5,000 successfully completed projects. We can help you bring innovative, cost-optimized farm equipment, sensors, drones, components, and more to market quickly with in-house engineering and manufacturing expertise, a dedicated logistics team, and a network of world-class manufacturing and supply chain partners.