Abstracts sought for presentations in sensors, infrared technology, laser systems, spectral imaging, radar, LiDAR, and photonics research
BELLINGHAM, Wash. and CARDIFF, Wales, Oct. 2, 2017 /PRNewswire-USNewswire/ -- Proposals for research reports in sensors, infrared (IR) technology, laser systems, spectral imaging, radar, LiDAR, and other topics are being accepted through 9 October by organizers of SPIE Defense + Commercial Sensing 2018, the leading global sensing, imaging, and photonics technologies event.

Sponsored by SPIE, the international society for optics and photonics, SPIE Defense + Commercial Sensing will run 15 through 19 April in Orlando, Florida, its long-time home and now a regular venue in a three-year rotation among cities on both coasts. Complete information is at http://www.spie.org/DCS.
The technical conference is the largest meeting for sensing and imaging engineers, scientists, program managers, and industry leaders. Approximately 5,000 people gather from around the world to share reports on the latest results from the lab and overviews on key governmental missions relevant to industry, and for business creation, professional development and training, networking, and an exhibition.
Highlighted technologies and applications include:
Cyber-physical systems and the Internet of Things: sensor fusion, big data, deep learning, cyber security
Unmanned autonomous systems for air, ground, and underwater: LiDAR, IR, multispectral and hyperspectral imaging, and data analysis
Agricultural and food safety: unmanned aerial vehicles for crop inspection, hyperspectral imaging, phenotyping, and IR thermography
Hyperspectral imaging, multispectral sensors, and ultraspectral spectrometers: precision agriculture inspection, cancer tissue analysis, and others
"The location in Orlando will bring attendees into a major hub of defense technology, a premier aerospace and space location, and the world-renowned optics and lasers program at CREOL, the College of Optics and Photonics at the University of Central Florida," said SPIE Senior Director Andrew Brown.
Orlando is home to the industry-led smart sensor consortium BRIDG, nanoelectronics research center imec Florida, and numerous innovative sensor and defense companies.
About SPIE
SPIE is the international society for optics and photonics, an educational not-for-profit organization founded in 1955 to advance light-based science, engineering, and technology. The Society serves nearly 264,000 constituents from approximately 166 countries, offering conferences and their published proceedings, continuing education, books, journals, and the SPIE Digital Library. In 2016, SPIE provided more than $4 million in support of education and outreach programs. www.spie.org
Featured Product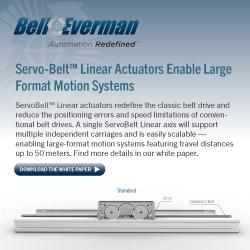 Manufacturing and packaging operations that still depend on manual material or parts handling operations can reap immediate benefits from a type of automation based on long-travel Cartesian robots with custom end-of-arm tooling (EOAT) and advanced sensing capabilities. These robots can support a variety of machines - performing otherwise manual tasks such as machine tending or transferring in-process parts - making long-travel Cartesian transfer robots a major upgrade to processes and operations. Download the White Paper from Bell-Everman