Digital Agriculture Program Blends Research, Innovations and Disruptive IoT Technologies to Increase Food Production for a Growing, Global Population
WEST LAFAYETTE, Ind. & SANTA CLARA, Calif.--(BUSINESS WIRE)--Aruba, a Hewlett Packard Enterprise company (NYSE: HPE), and Purdue Universitys College of Agriculture announced that they have joined forces to help develop and deliver a digital agriculture program that will revolutionize farming and food production for a growing, global population.

As the worlds population increases to an estimated nine billion people by 2050, researchers assess that agricultural output must double to meet the increasing demand. Purdue Universitys world-renowned College of Agriculture, home to three prestigious World Food Prize winners, is using Aruba Wi-Fi and HPE Edgeline solutions to launch a digital agriculture program that aims to grow and produce food and fuel more effectively than ever before.
Based at Purdues 1,408-acre Agronomy Center for Research and Education (ACRE) field research station, the digital agriculture project captures terabytes of data daily by using multiple types of sensors, cameras and human inputs. To gather, aggregate, process and transmit this data back to Purdues HPE supercomputer, the university is leveraging a combination of Aruba wireless solutions for mobile connectivity and HPE Edgeline Converged Edge Systems for compute. The result is an agriculture-centric IT infrastructure including advanced Internet of Things (IoT) sensors and devices that will allow Purdue researchers to study and improve plant growth and food production processes.
"Our digital agriculture project is the natural extension of a 5+ year strategic relationship between Purdue University and HPE," said Karen Plaut, interim Dean of the College of Agriculture, Purdue University. "As Purdues strategic digital agriculture partner, Aruba and HPE provide not only critical infrastructure, but on-site IT support and partnering in student research and internship programs. Together, we can innovate and drive new efficiencies that have a significant impact on global food production."
Purdues digital agriculture program includes multiple research projects delivering remote connectivity from ACREs researchers at field-based lab sites who are using mobile devices to enter and send information via the Aruba wireless network infrastructure, first to the HPE Edgeline systems located at the edge and then to an HPC data center where the information gathered is analyzed. Located in rural North-Central Indiana, ACRE is home to the Indiana Corn and Soybean Innovation Center, a $15M automated field phenotyping center, featuring state-of-the-art technologies for plant and seed processing, advanced sensing, and data management. ACRE employs more than 100 students and researchers conducting numerous research projects from basic to applied agriculture, engineering, aviation, and computer science research.
An important benefit of the Aruba and HPE infrastructure is improved productivity, leading to faster and better research results. The infrastructure is enabling AgTech applications that replace many previously manual processes to increase research speed and accuracy. For example, in seed research, researchers using mobile devices in the field can quickly transmit information about seed growth back to central labs to quickly analyze the impact of water levels, fertilizer quantities, and soil types covering the seeds. In turn, the labs can communicate their analysis and feed this information back to the field to quickly make adjustments.
Together, Purdue and HPE Aruba have jointly developed a number of new AgTech innovations that are dramatically changing the speed at which researchers can gather information and share their recommended practices to improve farming and food production processes:
Solar-powered mobile Wi-Fi hotspots: Replacing the time-consuming process of manually recording data in the field, researchers can now enter data, on the spot, into a mobile device, and have it instantly transferred to the appropriate analytics application in Purdues data center.
Next-generation adaptive weather tower for farm-scale wireless connectivity: A new weather tower provides high-speed connectivity across the entire 1,408-acre ACRE facility to plant-attached sensors that deliver accurate measurements on crop growth. Data provided by in-field sensors is fed to an HPE supercomputer for comprehensive analysis that has already resulted in new insights that were not possible with the prior manual research processes.
PhenoRover sensor vehicle: The PhenoRover is a semi-automated mobile vehicle that provides an IoT sensor platform to measure variations in crop performance. The PhenoRover roams throughout ACRE research plots capturing real-time data from plant-based sensors. This data is then transmitted over the Wi-Fi network to researchers.
Moving forward, Purdue is looking to market many of its innovations, such as the PhenoRover, for commercial use. Additional pilot projects include an Unmanned Aerial Systems (also called drones) program, to advance the effectiveness of plant-growth data collection. Currently, drone images are downloaded, then distributed internally to study biological relevance. In the future, the drone cameras could transmit real-time images via the HPE Aruba infrastructure allowing growers to make faster and better decisions for improved farming and food production.
"With the right infrastructure in place, the possibilities for innovation are really limitless," said Plaut. "The work were doing, with Aruba and HPE as our technology partners, is truly changing the face of agriculture, with the end goal to find better, more cost-effective ways to meet the demands for food production worldwide."
Additional Resources
Blog: https://news.hpe.com/intelligent-iot-powers-purdues-digital-agriculture-initiative-for-food-security-worldwide
About Purdue Universitys College of Agriculture
Purdue Universitys College of Agriculture leads globally in the science and business of agriculture, food, life, and natural resources, positively changing the world through our unwavering commitment to excellence in serving the land grant missions of learning, discovery, and engagement.
About Aruba, a Hewlett Packard Enterprise company
Aruba, a Hewlett Packard Enterprise company, is a leading provider of next-generation networking solutions for enterprises of all sizes worldwide. The company delivers IT solutions that empower organizations to serve the latest generation of mobile-savvy users who rely on cloud-based business apps for every aspect of their work and personal lives.
To learn more, visit Aruba at http://www.arubanetworks.com. For real-time news updates follow Aruba on Twitter and Facebook, and for the latest technical discussions on mobility and Aruba products visit Airheads Social at http://community.arubanetworks.com.
Featured Product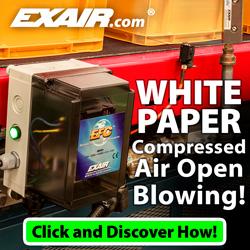 Compressed air is a limited resource that is generated in-house for the benefit of many operations within the manufacturing environment. Learn how to ensure all point of use applications are using your compressed air in the most effective and efficient way possible. Learn how much it costs to produce that compressed air and how Engineered Nozzles can help you use your air more effectively and efficiently.