Land O'Lakes Prize draws international competitors to make drones work better for farmers
ARDEN HILLS, Minn., Sept. 21, 2017 /PRNewswire/ -- Land O'Lakes, Inc. this week announced finalists for the Land O'Lakes Prize: Drone Challenge, a crowdsourced competition launched in February 2017 to help surface valuable, user-friendly drone solutions that will help farmers make better decisions for their crops as they work to produce more food to feed more people.

More than 157 innovators from 47 countries entered the competition-managed through the HeroX platform, which democratizes the innovation model of XPRIZE that can lead to breakthrough innovation-that was designed to accelerate the development of drones for the ag industry.
"We've been a leader in deploying ag technology through our WinField United business. In the precision and decision agriculture and satellite imaging space, we have a number of tools available that provide value to farmers, like the R7® Tool by WinField and R7 Field Forecasting application," said Mike Macrie, Land O'Lakes chief information officer. "We believe drones—with a few more years work and the right financial incentives, can be another useful tool in our farmers' toolbox."
Because today's drone solutions require a great deal of time and effort in the data collection and processing workflows, the drone challenge innovators' proposed solutions must limit the need for human involvement in field data collection, decrease the time needed to access crop imagery and improve the ability for a farmer to make decisions based on field health data.
Based on these criteria, judges from the University of Minnesota and WinField United ag tech experts selected three finalists to compete in a closed live judging event, demonstrating their proposed solutions in a field setting at Westland Dairy, Land O'Lakes member-owner, in Watkins, Minnesota on Sept. 20-22:
Sandhills Robotics, Fayetteville, North Carolina
CreateUAS, University of New South Wales, Sydney, Australia
American Robotics, Boston, Massachusetts
A prize of $5,000 is guaranteed for finalists. If a finalist meets all requirements better than any other, they take home $140K. The winners, if any, will be announced in the days following the judging event and will retain intellectual property rights to the solutions they develop to help farmers use drone technology more effectively.
About Land O'Lakes, Inc.
Land O'Lakes, Inc., one of America's premier agribusiness and food companies, is a member-owned cooperative with industry-leading operations that span the spectrum from agricultural production to consumer foods. With 2016 annual sales of $13 billion, Land O'Lakes is one of the nation's largest cooperatives, ranking 209 on the Fortune 500. Building on a legacy of more than 96 years of operation, Land O'Lakes today operates some of the most respected brands in agribusiness and food production including LAND O LAKES® Dairy Foods, Purina Animal Nutrition, WinField United and Land O'Lakes SUSTAIN. The company does business in all 50 states and more than 60 countries. Land O'Lakes, Inc. corporate headquarters are located in Arden Hills, Minn.
Featured Product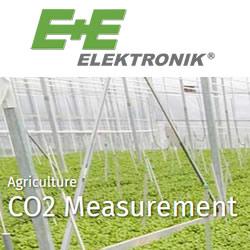 Lowering of energy costs, acceleration of growth and extension of the possible storekeeping duration can be optimised by the precise measurement of humidity, CO2-content and temperature. Optimum basic conditions for animals and plants ensure best agricultural products. As different applications demand various adopted solutions for optimization of agricultural processes, E+E Elektronik provides a broad portfolio of agricultural monitoring products