Agricultural software company plants sales roots in Adelaide, Australia, making continued growth intentions clear
Sept. 20, 2017, ADELAIDE, Australia /PRNewswire/ -- In line with a familiar growth trajectory, Agrian Inc. is moving into Australia with a physical support and sales presence to meet new market opportunities. Australia's ag industry has always embraced new technology and innovation, and this recent extension demonstrates an increased commitment to Australian agriculture, and to a belief in the power of a unified software platform to embolden every link of the ag-food value chain to operate more safely, sustainably and profitably.

Agrian, founded in 2004 in Fresno, California, started as a cloud-based record-keeping system to help those in the Western United States navigate the ever-growing regulatory requirements. Agrian quickly expanded its digital capabilities to include a platform approach to help agronomists, growers and food processors work collaboratively within one system to accomplish many tasks including food company reporting, crop planning, scouting, imagery, soil and tissue sampling, logged and wireless data transfer, variable rate, and nutrient management to create a record of each crop in every market whether in specialty fruit crops, cereal grains or oil seeds.
"We're excited to introduce Agrian's capabilities to the Australian market," said Nishan Majarian, CEO of Agrian. "We have 175,000 partners worldwide ranging from ag retailers, crop advisors, growers, food companies and equipment manufacturers, with over 50,000,000 treated hectares documented every year. I am extremely proud of what we've accomplished over the last decade - but we're not done," Majarian continued.
Agrian's expansion within Australia includes hiring seasoned ag professional, Matt Lane. Lane is based in Adelaide and has over 20 years of experience in agribusiness, through account management and business development roles in crop protection, crop nutrition and commercial seed.
Australia is witnessing a similar transition in farming as North America, as a younger generation assumes lead roles in the family operations. "These farmers fully embrace technology and innovation, and are eagerly asking for more and more information - particularly when it comes to precision agriculture," said Chad Matthies, VP Business Development, International. "Transparency within farming practices is not something we're just preaching, it's becoming the way things are done."
As consumers and food retailers increasingly demand more information about the way food is grown - the Agrian compliance and reporting system remains the only one in the industry that can dynamically and securely share crop data between growers, their advisors and processors. "We know we have a model that works well," said Majarian, "We're excited to watch it grow and support its growth in Australia and around the globe."
About Agrian
Founded in 2004, Agrian is an ag software company that helps growers, agronomists and food processors simplify their workflow by providing compliance, precision and agronomy in one platform. Agrian's unified software platform empowers every link of the agricultural food chain to operate safely, sustainably and profitably. For more information, visit Agrian.com.
Featured Product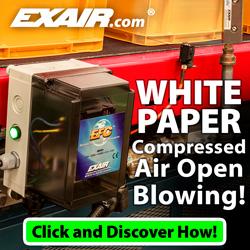 Compressed air is a limited resource that is generated in-house for the benefit of many operations within the manufacturing environment. Learn how to ensure all point of use applications are using your compressed air in the most effective and efficient way possible. Learn how much it costs to produce that compressed air and how Engineered Nozzles can help you use your air more effectively and efficiently.