Farm-Centric Program Assists in Field Trials & Attracting Investment
MEMPHIS, Tenn. (AgPR) - AgLaunch is excited to announce applications are open for its latest initiative AgLaunch365, which combines its leading accelerator program with its network of innovative farmers in a flexible wrap-around model that revolves around the agricultural production cycle.

AgLaunch365 will operate in three phases, allowing startups to participate in the phases that are relevant to each companys stage of growth. The year-round program includes:
 Phase I: Business model development - "customer discovery"
 Phase II: Refine product - "getting field ready"
 Phase III: Access to network of innovative farmers - "field trials"
AgLaunch365 is now accepting applications from agricultural startup companies seeking to participate in any phase of the program targeting the following areas:
Precision Farming
 Management of inputs
 Soil & crop tech
 Irrigation & water tech, sustainability enablers
Farming technology
 New equipment
 Robotics or automation
New, innovative technologies
 Crop production, harvest & storage
 Supply chain & logistics
 Processing/productivity tools, diagnostics
 Food safety, security
Animal Health & Nutrition
 Welfare practices
 Healthcare improvements
Here are a few of the tools that AgLaunch365 participants will have access to throughout the year:
Programming:
 Customized programming focused on agriculture from AgLaunch and lean startup business development facilitated by Start Co.
 Support from a national network of mentors and service providers including Archer Malmo and Baker Donelson
 First-hand access to industry expertise in the Memphis & Mid-South region including row crop and specialty crop production and logistics (blockchain, intramodal, etc.)
 Virtual programming opportunities with Knoxville Entrepreneur Center and other partners
Funding:
 Seed stage (historically $25k - $50k for Phase I companies) and potential for follow-on investment from Innova Ag Innovation Fund IV, a licensed USDA Rural Business Investment Company funded by eight Farm Credit banks
 Access to our network of leading venture capital partners with expertise in agriculture, such as Cultivian Sandbox Ventures
 Cost-share program to help farmers underwrite costs of new agtech trials that can create first customers for the startup and lower the risk for farmers to try new innovations
Farmer engagement:
 Field trials and access to leading farmers & farm organizations including Ritter Agribusiness & Mid-South Family Farms
 Access to a network of universities and research farms including Agricenter International to support 3rd party research
Visibility:
 Direct access to Farm Journal as an exclusive media channel partner, including behind-the-scenes access to events like AgTech Expo
 Participation in events including: Farm Bureaus Agriculture Investment Summit & the Startup Station at the Mid-South Farm & Gin Show
"AgLaunch365 reflects the continued refining of our model to revolutionize the way agricultural innovation is brought to market. Through our experiences to date, weve found what works, but weve also seen the opportunity to tailor our program even more effectively," says AgLaunch President, Pete Nelson. "AgLaunch365 will accommodate the specific needs and timing of those working in the ag industry in a strategic way that has never before been done in the industry."
Startups will have the ability to enter the program based on their developmental needs and how their product fits in the farm planning and cropping cycle. Entrepreneurs who participate will have dedicated blocks of time for programming in Memphis, TN, but also have flexibility to travel or be in the field to conduct normal business and assignments in-between programming.
"AgLaunch is situated in one of the best areas for ag entrepreneurs. Not only is the region rich with natural resources, but Tennessee sees the value in ag innovation," says Tennessee Commissioner of Agriculture, Jai Templeton. "AgLaunch is bringing the right people - from investors, entrepreneurs, and those within the ag industry - to a region that supports innovation and agriculture."
AgLaunch365 phases are designed to build upon each other and startup teams are invited to apply for all three phases or for one specific phase, based on their needs.
AgLaunch365 is open to companies at all stages, offering early-stage help or later access to progressive farmers who can help ground-truth innovative technology. Application deadlines are:
 For entry in the entire program, applications due by 8:00 a.m. CT on Monday, October 2, 2017.
 For field ready phase, applications due by 8:00 a.m. CT on Monday, November 6, 2017
 To access the field trial network, applications due by 8:00 a.m. CT on Monday, January 8, 2018.
Go to www.aglaunch.com for more information about AgLaunch365.
About AgLaunch™
AgLaunch develops agtech startups, creates value-chain companies, builds collaborative farmer networks and addresses gaps in the regional food and ag innovation ecosystem. The goal is to attract, start and grow 100 agricultural startup companies by 2022. AgLaunch is a joint initiative of Memphis Bioworks Foundation® and the Tennessee Department of Agriculture.
Featured Product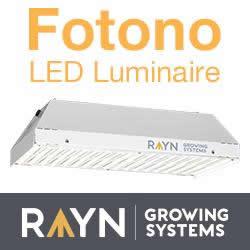 Fotono is a full spectrum LED horticultural luminaire designed to directly replace HPS lights in greenhouses. At 12 pounds, 20 inches long, and 5 inches high, Fotono's compact size makes installation simple while minimizing structural burden on greenhouses. This compact fixture packs energy-saving and yield-improving features, such as a high output, stepless dimming, advanced spectral capabilities, and more.