The event will provide the ultimate networking platform for start-ups and entrepreneurs looking to partner and gain global reach.
This week Israel's largest annual technology and innovation festival embarks on its fifth year, with events taking place across Tel Aviv. The DLD (Digital Life Design) Conference will host over 10,000 global attendees and over 100 events, with senior delegations from world leading brands including Google, Samsung, Amazon and Facebook visiting Tel Aviv to share their knowledge across the digital technology space.

The event will provide the ultimate networking platform for start-ups and entrepreneurs looking to partner and gain global reach.
DLD organisers have extended this year's event for the first time to also focus on food and agtech (agriculture technology), acknowledging Israel's "world-leading innovation in food technologies, with more than 500 locally founded start-ups in this area."
As part of the FoodTech & Agtech Revolution Panel, international delegates, including Gil Horsky, Global Innovation Lead at Mondelēz International and Yaron Amar, Head of Food E-Commerce at the retailer Carrefour will be discussing key industry developments and future trends. Panellists also include Yossi Dan, Chief Innovation Officer, Challengy as panel moderator, and Venture Partner from AgriNation, Adi Vagman, along with other industry leaders.
Speaking on the key areas to be covered during the panel discussion in addition to the wider festival, Horsky says: "The inclusion of foodtech and agtech here shows how far DLD has come since its inception and how it continues to expand beyond mainstream areas of digital technology and into emerging technology-enabled domains such as food." Horsky, who is responsible for driving the innovation agenda at Mondelēz Intl., the world's biggest snacking company, owner of iconic global brands Oreo, Milka, Toblerone, Belvita and others will be discussing the role health and wellness plays in the food and snacks category, and the impact technology can have in supporting people to make healthier choices.
"From an innovation perspective, this is something Mondelēz is especially keen to follow closely, in addition to getting personally involved with the foodtech leaders of tomorrow. DLD is one of the largest conferences of its kind, with Israel boasting a stronger than ever innovation hub which continues to show true leadership in this area," Horsky cited.
Commenting on the future of the industry, venture capitalist Adi Vagman says: "Agriculture today is entering its digital phase. As farmers need to grow more food with less resources the transformation to a more data driven and efficient industry is a must."
"I am particularly interested to look at how agricultural and food ventures will transition to the digital world, adopting technologies such as machine learning and blockchain as the entire food industry becomes more advanced."
Horsky concludes: "Our future is rooted in helping people eat in a balanced way and enjoy life with products that are safely and sustainably sourced, produced and delivered. That's why it is critical that the food and agtech ecosystem partners in events like DLD to deliver positive change for the entire food-chain, and by that bettering people's lives."
The FoodTech & Agtech Revolution panel will take place from 15:05 IDT on September 7th as part of the wider DLD Tel Aviv Festival.
For more information about the DLD Tel Aviv 2017 Festival, visit the website: http://www.dldtelaviv.com
Featured Product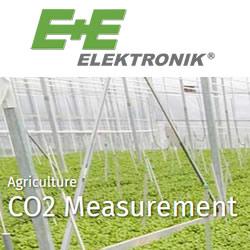 Lowering of energy costs, acceleration of growth and extension of the possible storekeeping duration can be optimised by the precise measurement of humidity, CO2-content and temperature. Optimum basic conditions for animals and plants ensure best agricultural products. As different applications demand various adopted solutions for optimization of agricultural processes, E+E Elektronik provides a broad portfolio of agricultural monitoring products