Professional Applicators Can Now Minimize Drift, Over-Spraying, and Crop Damage While Improving Product Efficacy
SANTA ANA, Calif.--(BUSINESS WIRE)--Iteris, Inc. (NASDAQ: ITI), the global leader in applied informatics for transportation and agriculture, today announced it has expanded its ClearAg® Spray Advisor capabilities to meet growing market demands for safe and effective in-field spray applications. The enhanced ClearAg Spray Advisor enables professional applicators and dispatchers to apply products at the most beneficial time in order to minimize risks of application drift and volatilization, issues that have recently affected crops in several states.

Accessible and easy to integrate for customers through API endpoints, visualization components, or mobile apps, the enhanced ClearAg Spray Advisor now includes 10 of the most critical spray application environmental conditions that are the basis for minimizing spray risks and liability, and assuring product efficacy and crop safety. Users can select any or all of the following variables depending on the specific product or crop: wind direction; wind speed; inversion risk; rain-free hours; 24-hour precipitation amounts; leaf canopy wetness; temperature; humidity; field conditions; and Delta T (widely used indicator term).
"In response to market needs, we have now brought together the most relevant crop environment conditions into one tool that guides professional applicators and dispatchers to quickly identify the most effective and safest spray windows for the crops theyre spraying, as well as potential impacts to crops in nearby areas," said Jim Chambers, senior vice president and general manager of Iteris Agriculture and Weather Analytics Division. "With much media attention garnered this season around crop chemical application, Iteris strives to deliver ClearAg solutions that preserve the broadest diversity of methods to reduce, and eliminate crop production challenges for agriculture professionals."
About Iteris, Inc.
Iteris is the global leader in applied informatics for transportation and agriculture, turning big data into big breakthrough solutions. We collect, aggregate and analyze data on traffic, roads, weather, water, soil and crops to generate precise informatics that lead to safer transportation and smarter farming. Municipalities, government agencies, crop science companies, farmers and agronomists around the world use our solutions to make roads safer and travel more efficient, as well as farmlands more sustainable, healthy and productive. Visit www.iteris.com for more information.
Featured Product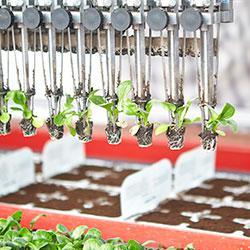 Monotone, repetitive movements of the hand can lead to chronic strain syndromes. Electric professional tools provide relief, such as "Pony" pruning shears. It is one of the most powerful products on the market with over 70 cuts per minute and a weight of only 770g. This is only possible with a drive that combines the highest efficiency with a compact lightweight design. Manufacturers of professional tools from around the world therefore rely on drive solutions from FAULHABER.