ripe.io is putting "transparency in every byte of food" with its blockchain, IOT and analytics technology for tomatoes.
ripe.io announced today a joint effort with The Cornucopia Project and Analog Devices, Inc. to reimagine the local food supply chain using its innovative software and technology stack including blockchain and IoT devices to identify, trace, establish quality and taste profiles of tomatoes.

Coordinated through the Cornucopia Project, a non-profit agricultural education organization based in Peterborough, NH, the design and purpose of the collaboration is to expose students from ConVal Regional High School and local famers to innovative tools that can be used alongside existing farming practices enabling improvements in transparency, traceability and quality. The combination of blockchain and IoT devices facilitates accurate real-time monitoring and tracking of the conditions and movement of produce through the food supply chain.
The staff of Cornucopias Farm to Fork program is training their student farmer "Fellows" on how advanced sensor instrumentation in their fields can provide valuable data to assess the attributes of tomatoes, and how these factors affect taste and quality. The organization will also educate students on how crops can be tracked throughout the agricultural supply chain to support food quality, sustainability, traceability, and nutrition.
"Cornucopia is delighted that ripe.io picked Peterborough as one of its early proof-of-concept locations, and Cornucopia is proud to act as ripe.ios on-site implementation partner", said Karen Hatcher, Executive Director of the Cornucopia Project. "We have the advantage of offering a concentrated ecosystem of innovative farmers, distributors, retailers and foodservice places who are eager to implement the technology and use it to build a vibrant local ag-food chain."
"This project is one of the first implementations of blockchain technology to capture real tomatoes and its associated growing data to build an open and transparent supply chain with farmers, retailers, food service, buyers and end consumers," said Raja Ramachandran, CEO of ripe.io. "What is learned in this initiative not only will improve quality, economic, and environmental outcomes in the local farming community, but also can be extended to other farms and crop species around the country. We aim to bring transparency to every byte of food!"
For the project, Analog Devices is providing a prototype of its crop monitoring solution, which measures environmental factors to help farmers make sound decisions about crops related to irrigation, fertilization, pest management, and harvesting. The sensor-to-cloud, Internet of Things solution enables farmers to make better decisions based on accumulated learning from the persistent monitoring. These 24/7 measurements are combined with a near Infrared (NIR) miniaturized spectrometer that conducts non-destructive analysis of food quality not previously possible at the farm level.
Along with private local community support, the endeavor is funded by ripe.io and Analog Devices, with both companies also providing training.
'Analog Devices work with The Cornucopia Project and ripe.io expands on our 'Internet of Tomatoes program which helps farmers make informed decisions throughout the growing cycle to improve the quality and profitability of their crops," said Erick Olsen, Smart Agriculture Manager, Analog Devices. "Our crop monitoring solution will provide reliable and precise information and extends the value and possibilities of the Internet of Things in truly transformative ways."
About Ripe Technology, INC.
Located in San Francisco, CA, ripe.io is introducing the "Blockchain of Food" consisting of an infrastructure of distributed ledgers, IoT and sensors, APIs and connected food supply chain workflow. Our technology provides a distributed, shared system of trust for the food supply chain enabling improved industry collaboration for smarter contracting, transparency for food knowledge, quality and safety for customers, data sharing and validation to improve integrity and reliability.
Follow ripe.io on Twitter at http://www.twitter.com/ripeio
About The Cornucopia Project
Since 2008, The Cornucopia Project has been dedicated to growing healthy children and communities in the Monadnock Region of southern New Hampshire. They plant the seeds for a healthy future by designing, building, and facilitating garden and agricultural educational programs, committed to growing the next generation of informed food advocates. Visit http://www.cornucopiaproject.org.
Featured Product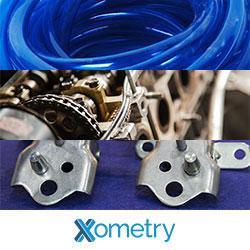 Xometry is your source for custom parts. Now, in addition to getting instant quotes on 3D Printing, CNC Machining, Sheet Metal, and Injection Molding, customers can create and send RFQs for die casting, stamping, and extrusion work to our nationwide network of pre-vetted manufacturers with just a 2D drawing. You will receive and be able to review responses from qualified shops within 7 days on an advanced web-based RFQ management platform. To learn more go directly to our site to issue and RFQ today. Stop wasting time managing RFQs through email and by phone, and start issuing RFQs at scale and in the cloud.