Meet the exceptional women of the Corn Producers Association of Texas, who journeyed from city to farm, and discovered that farming today is based on advance science and sophisticated technology that maximizes production while conserving resources.
In 1920, one out of three Americans lived and worked on farms and ranches. Today, thats about one out of fifty. The change from a rural, agricultural nation to one that is mostly urban and industrialized has been constant over the past century. But for every trend, there are exceptions. Recently, the Corn Producers Association of Texas teamed with YourUpdateTV to discuss a group of women who grew up in cities, moved to farms, and are now actively engaged in growing our food.

A video accompanying this announcement is available at: http://bit.ly/2vTtiYw
These women are part of an organization known as CommonGround, a group of women farmers who are having conversations about the food they grow and how they produce it. They bring a unique perspective to the conversation about our food, as they grew up knowing very little about farming. Moving to the farm, they discovered they held many misconceptions about where food comes from and how it is grown.
They learned that in order to survive these days, farmers must constantly adopt new techniques and technologies to increase production, while reducing water use and energy consumption. They use everything from satellite imagery to mobile-app controlled equipment. The Natural Resources Conservation Service along with the Soil and Water Conservation Districts work together to provide farmers with expert advice, technical assistance and information the latrst research findings that help them become better farmers and take care of their land.
About Corn Producers Association of Texas
The Corn Producers Association of Texas promotes and protects the interest of Texas corn producers. Our mission is to build a strong organizational support system and work as a legislative advocate to further the interest of corn producers and the corn industry throughout Texas. By joining together, we can continue to make a positive impact for our entire industry and our state. Click here to ensure your voice is heard by joining the CPAT.
About YourUpdateTV:
YourUpdateTV is a social media video portal for organizations to share their content, produced by award-winning video communications firm, D S Simon Media (http://www.dssimon.com). It includes separate channels for Health and Wellness, Lifestyle, Media and Entertainment, Money and Finance, Social Responsibility, Sports and Technology.
Featured Product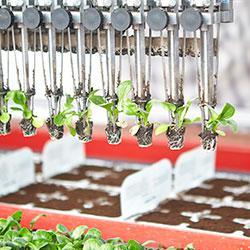 "Smart farming" is an important part of the answer to this existential question: Extremely high efficiency in food production through the targeted use of the latest technology, computer-supported and - where possible - fully automatic. Seeds are individually and precisely placed; fruits carefully picked by mechanical grippers; fertilizers and plant protection products applied in small doses and in a targeted manner. These operations require a large number of small electric motors that are both robust and powerful.