Monsanto Company (NYSE: MON) and ToolGen, Inc. (KONEX, 199800), a biotechnology company specializing in genome editing, announced today that the companies have reached a global licensing agreement for the use of ToolGens CRISPR technology platform to develop agricultural products.
ST. LOUIS & SEOUL, South Korea--(BUSINESS WIRE)--Monsanto Company (NYSE: MON) and ToolGen, Inc. (KONEX, 199800), a biotechnology company specializing in genome editing, announced today that the companies have reached a global licensing agreement for the use of ToolGens CRISPR technology platform to develop agricultural products.

ToolGen is an early pioneer in gene editing research. The license provides Monsanto with access to ToolGens comprehensive suite of CRISPR intellectual property for use in plants. This agreement further expands Monsantos broad portfolio of gene-editing tools that can be used to develop improved and sustainable crops.
"We are excited to bring ToolGens CRISPR platform on board at Monsanto, and are continuing to bolster and diversify our capabilities in this field of research," said Tom Adams, Ph.D., vice president of biotechnology for Monsanto. "As a company we remain committed to the development of safe, sustainable and high-quality crops, and look forward to leveraging the CRISPR platform as we endeavor to meet the needs of farmers while answering consumer demand for food options."
In order to grow more using less, farmers need a variety of seed choices to solve their local needs - like managing changing weather, fighting plant disease and pests, and using crop inputs and natural resources wisely. The companies noted that gene-editing technologies, like CRISPR, offer agriculture researchers significant advantages over existing plant breeding and biotechnology methods due to their versatility and efficiency, and will allow Monsanto to provide farmers with solutions to problems that have been previously unaddressed.
"We are pleased to announce our agreement with Monsanto, a global agriculture leader, and look forward to working together to build new and exciting opportunities in agriculture," said Jongmoon Kim, chief executive officer of ToolGen. "This agreement further validates our platform and demonstrates the value that gene editing will hold for the future of both agriculture and biotechnology."
Additional terms of the agreement were not disclosed.
About Monsanto Company
Monsanto is committed to bringing a broad range of solutions to help nourish our growing world. We produce seeds for fruits, vegetables and key crops - such as corn, soybeans, and cotton - that help farmers have better harvests while using water and other important resources more efficiently. We work to find sustainable solutions for soil health, help farmers use data to improve farming practices and conserve natural resources, and provide crop protection products to minimize damage from pests and disease. Through programs and partnerships, we collaborate with farmers, researchers, nonprofit organizations, universities and others to help tackle some of the worlds biggest challenges. To learn more about Monsanto, our commitments and our more than 20,000 dedicated employees, please visit monsanto.com. Follow our business on Twitter® at twitter.com/MonsantoCo.
About ToolGen, Inc.
ToolGen, Inc. is a biotechnology company focused on the development and application of genome editing technologies. It creates, and holds intellectual property rights for essential tools and technologies for editing the genetic information in microbial, plant, animal, and human cells. ToolGens mission is to translate the potential of our innovative platform technology into transformative products for biomedicine and agriculture. For more information, please visit www.toolgen.com.
Cautionary Statements Regarding Forward-Looking Information: Certain statements contained in this release are "forward-looking statements," such as statements concerning the companys anticipated financial results, current and future product performance, regulatory approvals, business and financial plans and other non-historical facts, as well as the pending transaction with Bayer Aktiengesellschaft ("Bayer"). These statements are based on current expectations and currently available information. However, since these statements are based on factors that involve risks and uncertainties, the companys actual performance and results may differ materially from those described or implied by such forward-looking statements. Factors that could cause or contribute to such differences include, among others: risks related to the pending transaction between the company and Bayer, including the risk that the regulatory approvals required for the transaction may not be obtained on the anticipated terms or time frame or at all, the risk that the other conditions to the completion of the transaction may not be satisfied, the risk that disruptions or uncertainties related to the pending transaction could adversely affect the companys business, financial performance and/or relationships with third parties, and the risk that certain contractual restrictions during the pendency of the transaction could adversely affect the companys ability to pursue business opportunities or strategic transactions; continued competition in seeds, traits and agricultural chemicals; the company's exposure to various contingencies, including those related to intellectual property protection, regulatory compliance and the speed with which approvals are received, and public understanding and acceptance of our biotechnology and other agricultural products; the success of the company's research and development activities; the outcomes of major lawsuits, including potential litigation related to the pending transaction with Bayer; developments related to foreign currencies and economies; fluctuations in commodity prices; compliance with regulations affecting our manufacturing; the accuracy of the company's estimates related to distribution inventory levels; the recent increases in levels of indebtedness, continued availability of capital and financing and rating agency actions; the company's ability to fund its short-term financing needs and to obtain payment for the products that it sells; the effect of weather conditions, natural disasters, accidents, and security breaches, including cybersecurity incidents, on the agriculture business or the company's facilities; and other risks and factors detailed in the company's most recent periodic report to the SEC. Undue reliance should not be placed on these forward-looking statements, which are current only as of the date of this release. The company disclaims any current intention or obligation to update any forward-looking statements or any of the factors that may affect actual results.
Featured Product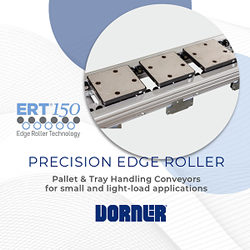 The next evolution in Dorner's Edge Roller Technology conveyor platform, the ERT®150, is ideal for small and light-load assembly automation, as well as medical and medical-device assembly application. The ERT platform is the only pallet conveyor of its kind available with an ISO Standard Class 4 rating for cleanroom applications. Earning the ISO Standard 14644-1 Class 4 rating means Dorner's ERT150 will conform and not contribute to the contamination of cleanrooms to those standards. As implied by its name, the ERT150 (Edge Roller Technology) uses rollers to move pallets through the conveyor smoothly with no friction (a byproduct often seen in belt-driven platforms). The conveyor's open design eliminates concerns of small parts or screws dropping into rollers and causing conveyor damage or jamming. The ERT150 is suited to operate in cleanroom environments requiring a pallet handling conveyor. It is capable of zoning for no or low-back pressure accumulation and is ideal for automation assembly applications within industries including medical devices, electronics, consumer goods among others.