Growlink Grow Controllers to be used in Modular Farms Container Farms
Growlink, a Denver-based technology company, announced today that it has formed a strategic partnership with Brampton, Ontario-based Modular Farms, to integrate its cloud-based grow controllers into their modular farm systems.

"Were excited for this partnership with Modular Farms," said Ted Tanner, CEO of Growlink. "Modular Farms has the potential to lengthen growing seasons, reduce local food insecurity, and stabilize a farmers income stream. We share their goals of bringing smart, fresh, local food to communities worldwide."
Modular Farms began selling its farm systems in November 2016. Instead of repurposing shipping containers, Modular Farm Systems are built from the ground up from composite, rust-resistant panels and are larger than traditional shipping containers at 40 x 10 x 10. The larger size allows for better spacing between plans and lights and greater airflow. Every unit comes with two intensive days of training and 24/7 support.
After initially building the container farms using other control systems, Modular Farms soon realized they would not fit the needs of their customers. "We were disappointed by the performance and limited functionality of other systems," said Eric Amyot, CEO of Modular Farms. "We needed a new solution." After reviewing all of the options available, Modular Farms selected Growlink to be its technology partner. The Growlink modular platform uses a variety of sensors and switching modules to monitor and control the environment and nutrient system, which growers can access from their smartphones using the Modular Farms App.
The App, available in the Apple App store and Google Play, connects to the Growlink Grow Controllers and allows users to monitor sensor data in real time, view real-time video, and control any connected devices. Users can set up rules including sensor triggers, timers, and schedules to automate the grow process.
"We wanted a strong technology partner that would meet our needs for a reliable, easy-to-use farm, and Growlink provides that," said Amyot. "Our Modular Farms Systems ship with the Growlink technology fully installed, customized for our customers planting needs."
About Growlink
Growlinks mission is to deliver an elegant and affordable way to control and automate lighting, climate, fertigation and irrigation systems. The Denver-based company focuses on creating well-designed, tightly integrated hardware and software that allow users to see, monitor and control their farm from anywhere. Visit http://www.growlink.com for more information and follow us on Facebook, Twitter and Instagram.
About Modular Farms
Launched in 2015, Modular Farms Co. is a Canadian agriculture company that provides first-of-its-kind engineered farming units designed for multiple terrains, weather conditions and a focus on plant health. Each Modular Farms unit is fully-manufactured in Brampton, Ontario and is capable of producing fresh, healthy produce virtually anywhere in the world and in any climate, exceeding the qualities and quantities of those grown in shipping containers. Current modules include Primary, Macro, and Vestibule, with Water, Storage, Energy and Sprout modules in development. The Modular Farms App allows users to monitor sensor data in real time, view real-time video and control any connected devices. Users can set up sensor triggers, timers, and schedules to automate the grow process directly from their smartphones. By partnering with world-leading experts in LED lighting, plant health sciences and indoor agriculture, Modular Farms brings unprecedented opportunity for expansion and growth in the agricultural industry. Visit http://www.modularfarms.co for more information and follow Modular Farms on Facebook, Twitter and Instagram.
Featured Product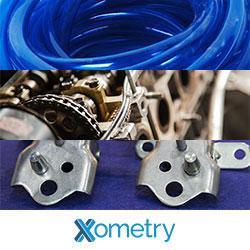 Xometry is your source for custom parts. Now, in addition to getting instant quotes on 3D Printing, CNC Machining, Sheet Metal, and Injection Molding, customers can create and send RFQs for die casting, stamping, and extrusion work to our nationwide network of pre-vetted manufacturers with just a 2D drawing. You will receive and be able to review responses from qualified shops within 7 days on an advanced web-based RFQ management platform. To learn more go directly to our site to issue and RFQ today. Stop wasting time managing RFQs through email and by phone, and start issuing RFQs at scale and in the cloud.