Imahara learns about how these technological innovations are helping to feed a growing population plagued by extreme space restrictions and resource limitations.
August 10, 2017 - Mouser Electronics Inc., a leading global distributor of electronic components, along with celebrity engineer Grant Imahara, today released the third video in the Shaping Smarter Cities series, part of Mousers award-winning Empowering Innovation Together™ program.

In the latest video, Imahara travels to Tokyo to meet with top executives and engineers from Mirai and discuss new developments in vertical farming. Imahara learns about how these technological innovations are helping to feed a growing population plagued by extreme space restrictions and resource limitations. The Shaping Smarter Cities series is supported by Mousers valued suppliers Analog Devices, Intel®, Microchip Technology and Molex.
"In the hands of true innovators, technology has the power to give us exciting new products, but it can also protect our environment and change the way we fulfill our most basic human needs, like food," said Glenn Smith, President and CEO of Mouser Electronics. "Our Shaping Smarter Cities series focuses on technologys potential for solving life-changing problems on a global scale."
"The potential of this technology is mind blowing — providing food for millions while using a fraction of the resources needed for traditional farming," said Imahara. "Not only will innovative technology create a more connected human race; it will normalize access to our most basic needs."
Tokyo has nearly 13.7 million people packed into 845 square miles, making it the most populous metropolitan area in the world. The sheer number of people in one city creates logistical and infrastructure problems, notably sustainably feeding the entire population. To investigate new solutions to these problems, Imahara visits Mirais facilities, learning how indoor vertical farming uses 40 percent less power than traditional farming and leads to 80 percent less food waste and 99 percent less water consumption than outdoor fields.
Imahara speaks with Nagateru Nozawa, COO of Mirai, to gain insight into the additional benefits their technology can provide, such as shorter transportation distances from farm to market and the minimized use of pesticides. Because the vertical farm is located inside a metropolitan area, fuel and delivery expenses are significantly reduced, further helping the environment while also lowering food costs.
The Empowering Innovation Together program has been one of the most visible and recognized programs in the electronic component industry, featuring projects ranging from bringing superhero technology to life to 3D printing a semi-autonomous car with drone technology. The focus of this years program is about solving tough problems that impact humanity as a whole. Visit http://www.mouser.com/empowering-innovation for more information.
About Mouser Electronics
Mouser Electronics, a Berkshire Hathaway company, is an award-winning, authorized semiconductor and electronic component distributor, focused on the rapid introduction of new products and technologies to electronic design engineers and buyers. Mouser.com features more than 4 million products online from more than 600 manufacturers. Mouser publishes multiple catalogs per year providing designers with up-to-date data on the components now available for the next generation of electronic devices. Mouser ships globally to over 550,000 customers in 170 countries from its 750,000 sq. ft. state-of-the-art facility south of Dallas, Texas. For more information, visit http://www.mouser.com.
About Grant Imahara
Well known in the engineering community, Grant Imahara has paired his engineering expertise with a Hollywood TV and film career. In addition to his roles on MythBusters and BattleBots, Imahara is the inventor behind many famous robotic characters, including the Star Wars prequel-era R2-D2, talking robot sidekick Geoff Peterson from The Late Late Show with Craig Ferguson, and the rhythmic arms on the modern-day Energizer Bunny.
Featured Product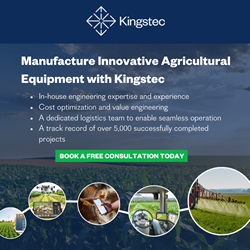 In the rapidly evolving agricultural landscape, leading AgriTech companies are increasingly leveraging the experience and expertise of strategic engineering and manufacturing partners to bring cutting-edge, cost-effective solutions to market. Kingstec is an all-in-one engineering, manufacturing, and logistics partner, with over 40 years of experience and 5,000 successfully completed projects. We can help you bring innovative, cost-optimized farm equipment, sensors, drones, components, and more to market quickly with in-house engineering and manufacturing expertise, a dedicated logistics team, and a network of world-class manufacturing and supply chain partners.