Double 4K Sensor's fully customizable filters offer impeccable crop health insights
MINNEAPOLIS, Aug. 9, 2017 /PRNewswire/ -- Today, Sentera announced the availability of its Double 4K precision agriculture sensor on DJI Phantom 4 Professional, Advanced, and Standard drones. This offering provides Double 4K quality at entry-level pricing, expanding late-season data collection options for agronomists, crop consultants, and growers. Several system configurations are available including collection of normalized difference vegetation index (NDVI), normalized difference red edge (NDRE), and high-resolution RGB data in a single flight. The Phantom 4 series drone with a Double 4K Sensor offers a robust yet affordable solution that helps users quickly detect and respond to problems.

Just in Time for Late Season Decisions
Better in-field data leads to better decisions, which translate into improved outcomes. The Double 4K sensor delivers outstanding high-resolution crop health imagery and data.
"We've experienced tremendous demand for our Double 4K Sensor during the first half of the 2017 North American growing season. We are excited to extend compatibility to the popular Phantom 4 drone family - just as critical late-season applications are being calculated," remarked Kris Poulson, vice president of agriculture for Sentera. "This solution gives ag professionals more control over their data capture than ever before, offering multiple configuration options on an easy-to-use platform."
A Variety of Data Capture Options
By retaining full functionality of the DJI Phantom 4 stock camera while integrating the versatile Sentera Double 4K sensor onto the commercial drone, ag professionals can capture even more data, all in a single flight.
For Phantom 4, Sentera will offer the Double 4K Sensor in two different configurations:
Five-band Multispectral (blue, green, red, red edge, and near-infrared (NIR)
Precision NDVI + Precision NDRE (for use with specific digital agriculture platforms)
Leveraging the Data
All data is seamlessly compatible with Sentera's AgVault™ Web, Mobile, and Desktop Software, integrating the Double 4K data with all major digital agriculture platforms.
Compatible Platforms
Existing Phantom 4 Professional, Advanced, or Standard drones can be sent directly to a Sentera-authorized reseller for modification. Producers who want to obtain a new Phantom 4 Professional drone with an installed Sentera Double 4K Sensor can purchase an integrated system directly through Sentera's dealer network. See www.sentera.com/find-sentera-dealer/ to find an authorized dealer near you.
Visit Sentera's website to learn more.
About Sentera
Sentera is a leading supplier of integrated remote sensing and IoT solutions to the agriculture industry, making it easy for users to bring in-field data off the farm for further analysis. Sentera equipment has flown tens of millions of acres all over the world. For more information, visit www.sentera.com.
Featured Product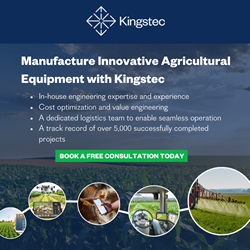 In the rapidly evolving agricultural landscape, leading AgriTech companies are increasingly leveraging the experience and expertise of strategic engineering and manufacturing partners to bring cutting-edge, cost-effective solutions to market. Kingstec is an all-in-one engineering, manufacturing, and logistics partner, with over 40 years of experience and 5,000 successfully completed projects. We can help you bring innovative, cost-optimized farm equipment, sensors, drones, components, and more to market quickly with in-house engineering and manufacturing expertise, a dedicated logistics team, and a network of world-class manufacturing and supply chain partners.