Heliospectra Secures First Order with Global AgTech Leader to Support Consistent, High Quality Crops and Commercial Food Production
GOTHENBURG, Sweden and SAN FRANCISCO, August 1, 2017 /PRNewswire/ --

Heliospectra AB (publ) (OTCQB: HLSPY, FIRSTNORTH: HELIO), a world leader in intelligent lighting technology for greenhouse and controlled plant growth environments, announces a new Fortune 500 Global AgTech customer. The order, valued at $70,000 (583 333 SEK), adds to Heliospectra's significant 2017 sales growth and product commercialization.
AgTech leaders and controlled environments agriculture (CEA) organizations continue to realize the impact Heliospectra's proven, adjustable spectra LED lighting technology and market-leading software control creates, increasing crop quality, production yields and business results.
"Heliospectra is privileged to collaborate with a modern agricultural leader in commercial food production and advanced research applications," said Ali Ahmadian, CEO of Heliospectra. "After rigorous evaluation and analysis of lighting and control products, this global Fortune 500 AgTech leader recognizes the value and business advantages that Heliospectra's reliable, durable and holistic solutions deliver."
With focus on the AgTech industry, Heliospectra is enabling global organizations to protect quality of research and commercial food production. The superior engineering and reliable light emitted from Heliospectra's intelligent LED lighting solutions ensure that cultivation teams control consistency and significantly increase quality of crops, harvest cycles and yields when compared to traditional high pressure sodium (HPS) or other LED light fixtures.
Heliospectra continues to expand the company's portfolio of supplemental LED lighting solutions for large scale greenhouse operations and sole source lighting technology for indoor controlled environments. With robust software controls and dynamic light response based on real-time integration of plant sensor feedback, energy consumption and climate data, Heliospectra ensures that plants receive the right amount of light at the right time across the complete growth cycle.
Featured Product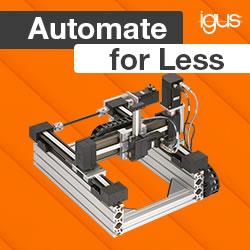 drylin® gantry robots consist of two base X-axes, a Y-axis, and an optional Z-axis. Their self-lubricating plastic liners have been engineered to slide instead of roll and to run smoother and quieter than recirculating ball bearings. drylin® gantries are also lightweight, corrosion-resistant, maintenance-free, and cost up to 40% less than traditional gantry robots. Visit this webpage to learn more.