Farm Management Software Company, Serving 900+ Customers, Strengthens Team
Harvest Profit, Inc. (HarvestProfit.com), a maker of farm management software and courses, announced today that Jaryd Krishnan has been hired as a Senior Software Engineer. He will also become an owner/partner in the business. Jaryd was most recently the Director of Technology at DogIDs.com. Jaryd has additional experience working on crop insurance and precision ag information systems.

Nick Horob, President said "Jaryds thirst for learning and knowledge of leading-edge technology will be an asset to Harvest Profit's customers. Im excited to partner with him as we move forward with our goal of helping farmers make more profit-focused farm business decisions. Since our first product release in the spring of 2016, we have attracted more than 900 paying customers across our suite of products. We are dedicated to continuous improvement to serve these customers and Jaryd will be a key partner in making this happen. We are just getting started…"
While there are many companies focused on providing agronomic technology to farmers, Harvest Profit remains focused the "business of farming." The companys mission is to help producers track, manage, and grow their long-term profitability and equity.
About Harvest Profit, Inc.
Harvest Profit, Inc. provides a suite of farm management software tools and courses focused on the "business of farming." Since its first product release in the spring of 2016, the company now serves 900+ paying customers in the US and Canada.
To learn more visit HarvestProfit.com
Featured Product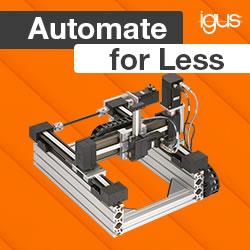 drylin® gantry robots consist of two base X-axes, a Y-axis, and an optional Z-axis. Their self-lubricating plastic liners have been engineered to slide instead of roll and to run smoother and quieter than recirculating ball bearings. drylin® gantries are also lightweight, corrosion-resistant, maintenance-free, and cost up to 40% less than traditional gantry robots. Visit this webpage to learn more.