FAA Administrator Michael P. Huerta to Deliver Grand Opening Keynote Address at #InterDrone
MELVILLE, N.Y., July 31, 2017 — BZ Media LLC today announced that Michael P. Huerta, Administrator of the Federal Aviation Administration, will give the Grand Opening Keynote address at InterDrone, September 6 at 10:00 am. He will be joined at InterDrone by a high-level lineup of commercial drone thought leaders who will frame the state of the industry at the conference, being held September 6-8 at the Rio Hotel in Las Vegas.

In addition to Mr. Huertas Grand Opening Keynote, addresses will also be presented by:
* Greg Agvent, Senior Director of News Technology, CNN
* Michael Chasen, CEO, PrecisionHawk
* Biren Gandhi, Distinguished Strategist, Corporate Strategy, Cisco
* Brian Krzanich, CEO, Intel
* Wahid Nawabi, CEO, AeroVironment
* Deepu Talla, Vice President, General Manager, Tegra Unit, NVIDIA
* Mike Winn, CEO, DroneDeploy
As Administrator of the Federal Aviation Administration, Mr. Huerta is responsible for the safety and efficiency of the largest aerospace system in the world overseeing a $15.9 billion dollar budget, and over 47,000 employees. The FAA is responsible for setting the legal requirements for the use of commercial drones in the United States.
More information on InterDrone—strictly for commercial drone builders, buyers and flyers—is open at www.InterDrone.com. For information on exhibiting or event sponsorships, please contact Ted Bahr at ted@bzmedia.com or +1 631-421-4158 x101.
ABOUT BZ MEDIA
BZ Media LLC is a 16 year-old high-tech media company producing industry-leading technical conferences and expositions.
Featured Product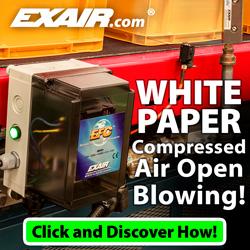 Compressed air is a limited resource that is generated in-house for the benefit of many operations within the manufacturing environment. Learn how to ensure all point of use applications are using your compressed air in the most effective and efficient way possible. Learn how much it costs to produce that compressed air and how Engineered Nozzles can help you use your air more effectively and efficiently.