ClearAgs EvapoSmart and IMFocus APIs to Power Field and Turf Irrigation Management
SANTA ANA, Calif.--(BUSINESS WIRE)--Iteris, Inc. (NASDAQ: ITI), the global leader in applied informatics for transportation and agriculture, announced ClearAgs EvapoSmart™ and IMFocus™ application programming interfaces (APIs) to provide environmental content in support of precision irrigation for irrigation hardware manufacturers, allied agricultural data providers, turf management providers and municipalities.

"Irrigation management requires continual analysis of a complex array of factors from weather and soil conditions to land topography, plant type and crop maturity," said Caleb Midgley, product manager for irrigation solutions at Iteris. "Derived from ClearAgs 35-year-historical and forecast weather and backed by sophisticated land-surface modeling, EvapoSmart and IMFocus APIs will help customers optimize irrigation scheduling, water conservation, and plant uptake while reducing watering costs."
Iteris hydrologists, crop scientists and data engineers have tailored these ClearAg irrigation APIs to help irrigation management applications better understand the environment from six feet above to six feet below the land surface. ClearAg customers can better manage water and energy inputs all while ensuring crop health and turf quality aren't compromised.
EvapoSmart API can:
Deliver historical and predictive weather information for any location globally utilizing a proprietary analysis and forecasting system developed by ClearAg
Provide all the irrigation-specific weather insights needed for water budget calculations in a single call
Return insights including reference evapotranspiration, crop coefficients, crop potential evapotranspiration, precipitation amount, and other parameters that are useful for standard water budget calculations
IMFocus API can:
Track all sources and sinks of water for the plant root zone, including irrigation activity by hardware type
Predict when soil moisture values will reach sensitive and critical levels in the root zone
Take into account soil texture class, plant growth, and terrain information to come up with a holistic solution that optimizes irrigation decisions
Provide irrigation recommendations, energy cost, water cost, energy usage, water usage, and water allocation utilization on a per irrigation event basis
ClearAgs EvapoSmart and IMFocus APIs are built upon Iteris proprietary data processing, analytics, and land surface modeling. In addition, IMFocus API incorporates ClearAg Focus™, Iteris advanced land surface modeling technology. Using inputs specific to the users location and crop growing conditions, ClearAg Focus employs advanced modeling of the physical processes occurring within the soil to determine vital data like soil moisture, soil temperature, and the vertical movement of soluble nutrients within the soil, overcoming the need for an extensive network of sensors. This allows for a cost-effective, highly scalable, zero-maintenance, and reliable source of information throughout the root zone of the growing plants, across multiple management zones, and over user-selectable time frames out to ten days into the future. For more information about ClearAg Irrigation APIs, stop by Iteris ClearAg Booth 88 at InfoAg in St. Louis, MO on July 25-27, 2017 or visit us online.
Iteris ClearAg is a leading digital agriculture platform that delivers weather, water, soil and crop health data and advisory services to growers, researchers and other agribusinesses who need accurate, location-based information available on a worldwide basis. Iteris is the only weather information and data science company to apply Land Surface Modeling (LSM) technology to agronomic problems.
About Iteris, Inc.
Iteris is the global leader in applied informatics for transportation and agriculture, turning big data into big breakthrough solutions. We collect, aggregate and analyze data on traffic, roads, weather, water, soil and crops to generate precise informatics that lead to safer transportation and smarter farming. Municipalities, government agencies, crop science companies, farmers and agronomists around the world use our solutions to make roads safer and travel more efficient, as well as farmlands more sustainable, healthy and productive. Visit www.iteris.com for more information.
Featured Product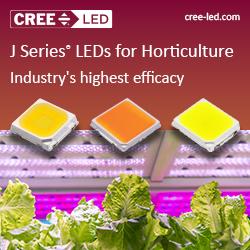 Horticulture and other forms of agricultural lighting require application-tuned ratios of spectral content, high efficacy and long lifetimes. Since these systems are designed to maximize yields for plants and animals, they require different metrics than lighting products designed around the human visual system. Cree LED delivers a wide range of spectral options and products optimized for these applications with leading efficiency and reliability.