Farm Dog's precision agriculture platform provides multiple tools to help growers adopt integrated pest management in their fields.
SALINAS, Calif., July 24, 2017 /PRNewswire/ -- Farm Dog, the leading pest and disease management platform for growers and agronomists, has completed the second stage of its integration with John Deere Operations Center. This milestone helps streamline growers' adoption of integrated pest management (IPM) for their fields, which has been shown to drive down input costs, increase yields, and promote environmental sustainability.

According to Joe Braml, Integrated Solutions Specialist at Tractor Central in Wisconsin, "Farm Dog integration into the John Deere Operations Center will make it much easier to see how the things I take note of during the growing season affect the yield in the end."
The strengthened integration fully synchronizes data from users' Farm Dog and MyJohnDeere™ accounts, enabling them to view and analyze in-field scouting observations together with additional crop and field information in both the Farm Dog platform and Operations Center. Specifically, growers and agronomists can now:
Import field boundaries, client, and crop information from John Deere Operations Center to Farm Dog for easy onboarding;
Collect in-field scouting observations, access treatment efficacy information, view regional pressure maps, and receive advanced analytics within the Farm Dog platform; and
Automatically export scouting observations and insights, including findings, geo-markers, and photographs, from Farm Dog into John Deere Operations Center.
"Farm Dog is committed to providing growers and their agronomists the best precision agriculture tools possible to implement IPM in their fields," said Liron Brish, CEO of Farm Dog. "Our users were clear in their desire for a stronger integration with John Deere, and we are excited to roll out these new features for them."
About Farm Dog
Farm Dog is a precision agriculture solution for pest and disease management to help growers optimize treatments, increase yields, and promote sustainability. With over 5,000 fields under management, leading growers and top scouting groups worldwide rely on Farm Dog in their day-to-day operations to make more informed decisions. To learn more, visit http://www.farmdog.ag
Featured Product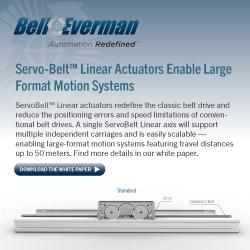 Manufacturing and packaging operations that still depend on manual material or parts handling operations can reap immediate benefits from a type of automation based on long-travel Cartesian robots with custom end-of-arm tooling (EOAT) and advanced sensing capabilities. These robots can support a variety of machines - performing otherwise manual tasks such as machine tending or transferring in-process parts - making long-travel Cartesian transfer robots a major upgrade to processes and operations. Download the White Paper from Bell-Everman