Demonstrations Highlight Extensive Cellular & LoRa® at Work Within Agricultural Scenarios. MultiTech Experts Speak out on Panels and Workshops on LPWA and Moving Quickly from Prototype to Production.
WHAT: InfoAG Conference, the premier event for discussion and advancement of precision agriculture.

WHEN: July 25-27, 2017
Panel and Workshop Dates:
July 25 from 1pm to 3pm "AgTech IOT - Deploying sensor networks using Low Power Wide Area Networking (LPWAN)" panel discussion.
July 26 from 8am to 10am - "LPWA Prototype to Production Workshop"
WHERE: Union Station, St. Louis, MO
Demonstrations: Live product demonstrations in Booth #63 of MultiTechs newest wireless industrial IoT technologies will model real-life scenarios within agriculture.
mesur.io
Demonstration highlights the mesur.io analytic platform, a "bulb" in the ground that transmits relevant data (light, soil moisture, round and surface temperature) and is powered by MultiTechs MultiConnect® mDot™. mesur.io combines securely integrated smart sensor technology with state of the art predictive analytics and discovery engines to enable accurate decisions.
The MultiConnect mDot (MTDOT Series), is a secure, CE/FCC & LoRa Alliance Certified™, ARM® mbed™ OS programmable, low‐power LoRaWAN™ RF module, that provides significantly longer range and improved radio performance compared to traditional wireless solutions—resulting in greater transmission range, edge decision making and reduced capital expense.
Panel: "AgTech IOT - Deploying sensor networks using Low Power Wide Area Networking (LPWAN)"
Michael Finegan, Director of IoT Business Development, will lead a discussion on public and private network communication options for agricultural deployments. Growers and AgTech enthusiasts will learn best practices on how to leverage crowdsourcing platforms to move from prototype to production quickly.
Learn more about Michaels presentation here.
Workshop: "LPWA Prototype to Production Workshop"
MultiTech, in conjunction with Senet and myDevices will lead a hands-on workshop for developers and engineers that wish to learn how to start the development of loT commercial solutions using pre-certified LoRaWAN hardware platforms and mbed.org to quickly create new "connected prototypes." To learn more about this popular workshop, click here.
About MultiTech
MultiTech has been expanding the connected world by delivering industry-leading communications technology platforms for over 40 years. Offering an extensive line of fully certified and carrier-approved gateways, routers, modems and embedded components, MultiTech works with thousands of customers worldwide to easily enable cellular, analog, Wi-Fi®, Bluetooth®, LoRa®, GPS/GNSS, and other M2M communication capabilities for their IoT applications. For more information, please visit http://www.multitech.com.
Featured Product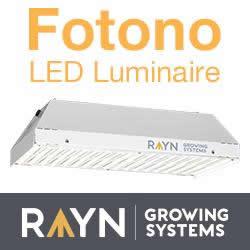 Fotono is a full spectrum LED horticultural luminaire designed to directly replace HPS lights in greenhouses. At 12 pounds, 20 inches long, and 5 inches high, Fotono's compact size makes installation simple while minimizing structural burden on greenhouses. This compact fixture packs energy-saving and yield-improving features, such as a high output, stepless dimming, advanced spectral capabilities, and more.