First Public Demo of bext360's Blockchain and Artificial Intelligence Powered Platform to Collect, Analyze, Pay, and Track Coffee from Bean-to-Brew to Take Place at MIT on July 17th
DENVER, July 17, 2017 /PRNewswire/ -- bext360, a company that develops technologies to streamline critical supply chains in emerging economies, unveiled its first product for the coffee supply chain, the bextmachine, at TechCrunch's Sessions: Robotics at MIT in Boston on July 17, 2017.

"While new research from the Annals of Internal Medicine strengthens the correlation between coffee consumption and health benefits, most consumers cannot identify the source of their daily cup, nor the impact it has on the global environment," says bext360's CEO, Dan Jones.
Millennials and other coffee connoisseurs, however, are more invested in supply chain transparency. These consumer preferences indicate a fundamental shift in the importance of verification methods for fair trade certification. Jones notes, "Further, the announcement of Amazon's upcoming acquisition of Whole Foods highlights this trend, and is motivated, I believe, by Amazon's desire to create a truly transparent supply chain from producers, to storefronts, and, finally, to consumers."
"The current coffee supply chain is antiquated," Jones explains. "Our technology applies machine learning and AI to analyze coffee cherries and beans based on the quality of the goods. Coffee farmers access a mobile app to review the results, and Stellar.org's blockchain platform allows immediate payment and immutable traceability."
This platform enables all stakeholders - farmers, roasters, and consumers - to access data across the entirety of the supply chain. For example, coffee companies may use the data to assess the quality and efficiency of farming practices, while analyzing supply chain dynamics contemporaneously, to inform improvements to supply chain efficiencies.
In April 2017, bext360 exited stealth with $1.2M in seed funding. The company will pilot the bextmachine in Fall 2017 with end-to-end coffee partners, from local coffee co-ops and suppliers, to popular roasters. bext360 will formally announce selected partners in the coming months, in addition to sharing information about purchasing opportunities.
About bext360
bext360 develops technologies, which strengthen local businesses and communities in emerging economies by increasing access to capital and streamlining critical supply chains. The bext360 technology builds upon the fundamental shift in mobile access, renewable energy, microfinance, and mobile/digital currencies in developing countries. For more information on bext360, visit: https://www.bext360.com.
Featured Product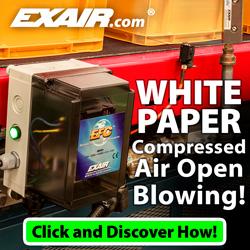 Compressed air is a limited resource that is generated in-house for the benefit of many operations within the manufacturing environment. Learn how to ensure all point of use applications are using your compressed air in the most effective and efficient way possible. Learn how much it costs to produce that compressed air and how Engineered Nozzles can help you use your air more effectively and efficiently.