U.S. Farmer Gets Older as Niman Ranch Farmer Gets Younger. 58 vs. 47 years old – 11 years younger than National Average
NORTHGLENN, Colo.--(BUSINESS WIRE)--Niman Ranch, a national leader in sustainable agriculture and humane livestock practices, today announced Young Farmer 2.0, phase two of an open and transparent plan to grow the next generation of farmers.

Ten years ago, Niman Ranch farmers were four years older than the national average. Through a series of initiatives, the Niman Ranch network of more than 720 independent family farmers now averages 47 years old, 11 years younger than the national average. The U.S. Census Bureau reports that the average age of farmers has steadily increased to 58 years old over the last 30 years contrary to the Niman Ranch experience. The number of beginning farmers in America fell by more than 20 percent between 2007 and 2012 alone.
"Niman Ranch remains committed to helping make small family farms viable and to supporting the communities in which they thrive," said Paul Willis, founder of the Niman Ranch Pork Division. "We know were doing something right because more young people want to work with us. Our animals are raised with care and we care deeply about the farmer, the environment and the customer."
The announcement came as Marczyk Fine Foods in downtown Denver, Colo., a long-standing Niman Ranch partner, began a weekend of annual activities to raise money for the Niman Ranch scholarship fund, including the popular Friday Burger Night. Over the last four years, Marczyks alone has raised over $60,000 toward supporting farm families and helping send their children to college. Niman Ranch and their customers, from Chipotle Mexican Grill to chefs such as Paul Mattison, Alice Gonzalez, and many others, have raised and donated more than $375,000 in the past 12 years for scholarships. The partnerships have become a special Niman Ranch tradition across the country to benefit the next generation farmer and grow the network of sustainable farms.
"We are very pleased to see our customer partners step up and grow the Next Generation Scholarship Fund to help reduce financial burdens and provide aid for rural students so they can return to the land with less college debt," said Jeff Tripician, general manager of Niman Ranch.
In addition to the scholarship fund events, Denver also hosts Slow Food Nations this weekend. Working with Slow Food, Niman Ranch provided a scholarship for two young farmers to travel to Denver for the conference. "Niman Ranch continues to support rural America by increasing their farmer network in a thoughtful and environmentally sound way," said Krista Roberts, Slow Food Nations Event Director. "The new transparent focus on generational farming, young farmers and preserving Americas farmland, will provide a framework for others to follow."
The multi-tiered Niman Ranch Young Farmer Program will include:
Fair prices that ensure a solid economic future in farming
Extended contracts - out to five years to help local banks provide young farmers with better lending terms
Co-sign loans to young farmers for easier financing
Educational programs
18 "How to" videos to aid farmers on best practices
Scholarships for farming students attending college
Financial incentives for quality production
Creation of Niman Ranch Young Farmers Committee to continue learnings
Mentor program led by experienced farmers to help pass on knowledge to the next generation and be available to help with questions and on-farm issues
"Niman Ranch has made a concerted effort to help young farmers return to the land and lifestyle they love," said Tripician. "A decade ago, our farmers were older than the national average. Today they are more than a decade younger. We piloted a program to help unlock the hurdles and it proved successful. We met with both young and old farmers to address other outstanding obstacles, loan terms from banks, best practices, education, mentorships and more and are now expanding the program."
Fifth generation farmer Bruce Williams from Villisca, Iowa, has worked with Niman Ranch nearly 20 years. He said, "It was a watershed moment when my son, Aaron, told me he wanted to come back to the family farm and work with me. We are a six-generation farm and it means the world to me that he respects the practice weve created of sustainable farming, love of the animals and a commitment to farm the land. I am glad for the opportunity to continue this kind of life for my family and future generations through Niman Ranch."
New developments, successes and partnerships will continue to be announced throughout the coming year.
With more than 40 years as an industry leader, Niman Ranch is a community of more than 720 independent family farmers and ranchers who raise livestock traditionally, humanely and sustainably to deliver the finest-tasting meat. All Niman Ranch pork, beef, lamb and prepared products are certified under the Certified Humane® program and available nationwide at both food service and retail locations.
Featured Product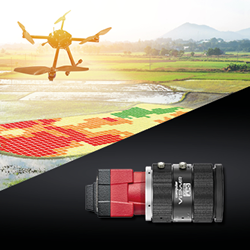 Allied Vision's compact and light weight Alvium SWIR (short wave infrared) cameras are the ideal choice to build cost-effective OEM systems used in embedded and machine vision applications. The cameras support a spectral range from 400 nm to 1700 nm at high quantum efficiencies. This allows to capture images in both the visible and SWIR spectra with a single camera and enables users to reduce overall system costs! Equipped with Sony's IMX990 and IMX991 SenSWIR InGaAs sensors, Alvium SWIR cameras deliver high image quality and frame rates. This makes them well suited for drones or handheld devices used in various industries such as, agriculture, mining, solar cell inspection or medical.