DMG Productions explores advances in tire performance within the Ag industry.
The award winning series, American Farmer, which airs on RFD-TV, will feature Firestone Ag in an upcoming episode, airing fourth quarter 2017. American Farmer airs Tuesdays at 8:30aET on RFD-TV. Check your local listings for more info.

In this episode, American Farmer will explore the deep-rooted history of Firestone Ag, and its contributions toward modernizing Ag production. It will also explore the Firestone Ag division of tires, designed for todays high-horsepower farmer.
"For 85 years, Firestone has been proud to bring quality products to farmers," said Cindy Ridge, brand manager, Firestone Ag, Bridgestone Americas Tire Operations. "In this time, we have built the largest dealer network in the industry, developed new technology to make tires work harder for farmers, and have been committed to putting farmers first in our business. Were excited to share our history and our story on American Farmer TV."
Committed to helping its customers be better farmers, Firestone Ag brings information and education to the farm through a variety of tools. From an inflation calculator to a six-step tire check, farmers are learning how tires play a vital role in the farms bottom line. Engineers from Firestone Ag will explain how fuel costs, time in the field and soil compaction can all be reduced by paying more attention to their tires.
"The company believes so strongly in their tires that it provides an industry-leading, nine-year limited warranty, so that farmers can roll into the field and not worry about whats between them and the ground," said Robert Sikich, Senior Producer for the American Farmer series. "We look forward to exploring how this is yet another example of how Firestone is leading the Ag tire industry."
About Bridgestone Americas, Inc.:
Nashville, Tennessee-based Bridgestone Americas, Inc. (BSAM) is the U.S. subsidiary of Bridgestone Corporation, the worlds largest tire and rubber company. BSAM and its subsidiaries develop, manufacture and market a wide range of Bridgestone, Firestone and associate brand tires to address the needs of a broad range of customers, including consumers, automotive and commercial vehicle original equipment manufacturers, and those in the agricultural, forestry and mining industries. The companies are also engaged in retreading operations throughout the Western Hemisphere, and produce air springs, roofing materials, and industrial fibers and textiles. The BSAM family of companies also operates the worlds largest chain of automotive tire and service centers. Guided by its One Team, One Planet message, the company is dedicated to achieving a positive environmental impact in all of the communities it calls home. For more information, visit: http://www.firestoneag.com..
About American Farmer:
American Farmer is a breakthrough program on a mission to showcase the latest advancements in agriculture and farming. From seed to harvest, livestock and more, our producers have traveled the country covering the people, places and issues impacting all areas of farm country.
American Farmer airs Tuesdays at 8:30am ET on RFD-TV. Check your local listing for show times.
For more information visit http://www.AmericanFarmerTV.com or contact Robert Sikich at (866) 496-4065 or via email at: info(at)AmericanFarmerTV.com.
Featured Product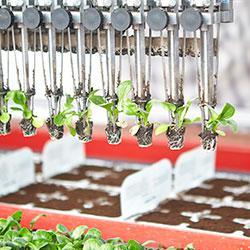 The FAULHABER Linear Actuator L series are designed to provide high performances in compact dimensions, these actuators can support large input speed, high output force and are suited for a wide range of applications like robotics, industrial machines and laboratory equipment.