Eliminating guesswork out of crop scouting, the easy-to-use app will help retailers increase efficiency and profitability of their business
WINNIPEG, Manitoba & SHAKOPEE, Minn.--(BUSINESS WIRE)--Farmers Edge™, a global leader in decision agriculture, announced today the next addition to its suite of tools for agriculture professionals - eScout - an advanced app-based scouting tool. With this new innovative app, agriculture professionals can strengthen their business through enhanced agronomic services that support their customers in making more informed and timely farm management decisions.

Equipped with tools to monitor and address field conditions, eScout generates real-time reports, integrates with agronomy software, and provides users with high quality scouting information. With multiple user privileges, GPS navigation, and agronomic calculators, the app helps agriculture professionals manage workflow and increase efficiency of their scouting team from one platform.
Easy to use for both experienced and inexperienced scouting teams, the new app takes the guesswork out of crop scouting. Through a series of systematic questions, the app narrows down a comprehensive database of weeds, insects, disorders, and diseases with high-quality pictures, pest background, life cycle, and threshold information to ensure correct identification, and provides the option to switch to pick-lists for faster identification giving each scout the information they need to complete jobs quickly and accurately.
"As demand spikes for quality scouting services, we're proud to provide agriculture professionals with innovative and cost-effective tools to help bolster their bottom lines," said Wade Barnes, President and CEO of Farmers Edge. "Fundamentally, our vision is to bring more precision services and solutions to growers across the globe through our expanding network of representatives. Together, we can work towards shifting the industry from precision to decision agriculture."
eScout is available to agriculture professionals who are interested in representing Farmers Edge and enhancing their existing scouting programs. To learn more about eScout, visit www.FarmersEdge.ca/eScout. To download eScout, visit the app store here.
About Farmers Edge
Farmers Edge is a global leader in decision agriculture. Combining hardware, software, agronomy, and support, Farmers Edge provides growers with the right data to inform farm management decisions that maximize productivity and profitability. Originating in Canada, Farmers Edge is now active in five countries across the globe and has received international recognition, including the World Economic Forum's Technology Pioneer award and PricewaterhouseCoopers (PwC) Canadas Disruptor Innovator of the Year award, for its agricultural innovations and commitment to global sustainability. For more information, visit www.FarmersEdge.ca or www.FarmersEdgeUSA.com.
Featured Product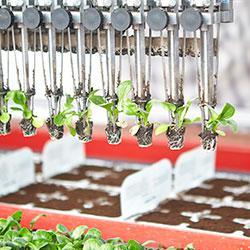 "Smart farming" is an important part of the answer to this existential question: Extremely high efficiency in food production through the targeted use of the latest technology, computer-supported and - where possible - fully automatic. Seeds are individually and precisely placed; fruits carefully picked by mechanical grippers; fertilizers and plant protection products applied in small doses and in a targeted manner. These operations require a large number of small electric motors that are both robust and powerful.