Collaboration Will Employ CropOS™ Computation Platform to Advance Soybean Breeding
ST. LOUIS, July 5, 2017 /PRNewswire/ -- Benson Hill Biosystems, an agricultural technology company focused on improving crop performance using big data analytics and plant genomics, today announced a collaboration agreement with GDM Seeds, a leading global soybean research, development and commercialization company. GDM will leverage CropOS, Benson Hill's cognitive platform, to improve and enhance its soybean research program worldwide.

GDM represents one of the most comprehensive soybean breeding and testing programs in the world, with presence in more than 15 soybean producing countries. Approximately 20% of global soybean commercial production is derived from its proprietary genetics. GDM continuously seeks to employ the most advanced technologies to drive soybean yield and will employ Breed, powered by CropOS, in its breeding programs to evaluate and select lines for advancement to markets across Argentina, Brazil, Europe, Paraguay, United States, Uruguay, and South Africa, among others.
"Benson Hill's platform provides access to data and predictive analytics to accelerate the plant breeding process and enable our team to bring improved varieties to the market faster," said Marcos Quiroga, Director of Research and Development at GDM. "With decades of experience in soybean breeding, we recognize the importance of leveraging the most advanced technologies to bring more choice to our customers. Our collaboration with Benson Hill enables our team to leverage their advanced capabilities to enhance our existing program."
Benson Hill's CropOS combines biological knowledge and big data analytics with scalable cloud-based computing—an intersection of disciplines known as cloud biology—to predict biological outcomes and provide critical decision support to advance breeding programs. CropOS identifies the most promising genetics for any targeted outcome from higher yield to environmental sustainability or enhanced nutrition. The platform's machine learning capability calibrates and evolves with each field trial and data set, improving its predictive capability.
"GDM's mission to employ the best science and provide greater choice for growers aligns with Benson Hill's vision to empower a broader community of agriculture innovators for the benefit of local communities, our society and our planet," said Matthew Crisp, CEO and co-founder of Benson Hill. "The Benson Hill team is eager to equip our newest partner with the capabilities of CropOS to more rapidly advance its soybean breeding efforts."
About GDM Seeds GDM Seeds is an extensive global soybean research, development and commercialization company, distributed along the main soybean producing countries in the northern and southern hemispheres. GDM also breeds, develops and commercializes wheat varieties. GDM's mission is to contribute to improving agricultural productivity in a sustainable framework to meet the needs of humanity. GDM's products combine the best owned genetics with the best technologies, along with proven crop management recommendations to maximize yield.
About Benson Hill Biosystems Benson Hill Biosystems is an agriculture technology company focused on improving crop performance using big data analytics and plant genomics. We partner with organizations to harness genetic variation through breeding, trait development, and genome editing to enhance the sustainability of food, feed, fiber and fuel production. More information can be found online at www.bensonhillbio.com. Follow us on Twitter at @BensonHillBio.
Featured Product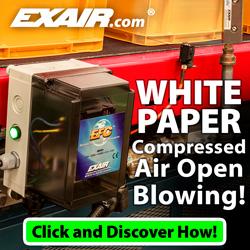 Compressed air is a limited resource that is generated in-house for the benefit of many operations within the manufacturing environment. Learn how to ensure all point of use applications are using your compressed air in the most effective and efficient way possible. Learn how much it costs to produce that compressed air and how Engineered Nozzles can help you use your air more effectively and efficiently.