InterDrone 2017 in cooperation with Drone Law Pro has published and made available for free a new whitepaper regarding Part 107.
"The Comprehensive Guide to Part 107: The Current State of Commercial UAS Integration in the U.S. 2017" has recently been published by BZ Media for the upcoming InterDrone 2017 and was written by Drone Law Pro UAV Attorney Enrico Schaefer. This free whitepaper provides insightful information on the opportunities and challenges of Part 107, the current status of Part 107 implementation, how to maintain professionalism and high standards of safety, the current state of UAS integration in the United States, expected growth of commercial UAS operations, and much more. As the UAV industry continues to grows, it is important to understand both the state of commercial UAV regulations, as well as the market for UAV-related services in the U.S.

For more information and to download this free Part 107 Comprehensive Guide, please visit http://tinyurl.com/ycmsmafz.
InterDrone 2017 (http://www.interdrone.com/) is one of the largest UAV conferences and expositions. InterDrone™ was launched in September of 2015. This Show is expected to be one of the worlds largest dedicated event to the commercial UAV industry. InterDrone 2017 is expected to host more than 4,000 commercial drone buyers and flyers in Las Vegas at the Rio Hotel from September 6 - 8, 2017. The conference & expo focuses on key UAV markets such as precision agriculture, construction, cinematography, infrastructure inspection, and emergency response. InterDrone provides more than 120 classes, panels and keynote speaker sessions with more than 185 exhibitors showing the latest in UAVs products, services and related technology. InterDrone also publishes UAV industry news and important drone developments all year round on its website.
BZ Media LLC (http://www.bzmedia.com/) is a privately held, high-tech Media Company co-founded in 1999 by Ted Bahr and Alan Zeichick and is based in New York. The company has been producing technical conferences and trade shows since 2004. BZ Media LLC manages, produces and holds the trademark for InterDrone™.
Drone Law Pro (http://www.dronelaw.pro) is the UAV legal team of Traverse Legal, PLC. Drone Law Pro is one of a few Part 107 and UAV law firms in the country, representing Fortune 100 and start-up companies regarding the Section 333 Exemption, Part 107 and other drone legal related matters. UAV Attorney Enrico Schaefer is the lead attorney for Drone Law Pro & Traverse Legal, PLC and is also a UAS pilot and technology attorney. Enrico has been an UAS enthusiast for years and has completed a number of advanced UAS classes in the UAS program at Northwestern Michigan College.
Featured Product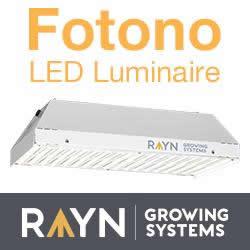 Fotono is a full spectrum LED horticultural luminaire designed to directly replace HPS lights in greenhouses. At 12 pounds, 20 inches long, and 5 inches high, Fotono's compact size makes installation simple while minimizing structural burden on greenhouses. This compact fixture packs energy-saving and yield-improving features, such as a high output, stepless dimming, advanced spectral capabilities, and more.