Event organizers leverage companys expertise to plan first-ever talks, case studies and workshop focused on real-world IoT deployments, technology innovations and best practices.
Senet, the first and fastest growing provider of secure, public, low-power wide-area networks (LPWANs) and Managed Network Services for Internet of Things (IoT) applications supporting the LoRaWAN™ protocol, today announced its sponsoring, speaking and providing live LoRaWAN connectivity at The 2017 InfoAg Conference being held July 25 - 27, 2017 at the St. Louis Union Station Hotel in St. Louis, Missouri.

In an industry in which IoT solutions have already established themselves as critical drivers of yield improvement and cost reduction, Senets ROI value proposition strongly resonates. Standards-based LoRaWAN agriculture solutions are now replacing higher cost cellular-based solutions and offer significantly more flexibility and long-term value than competing proprietary technologies.
"We are pleased to have the opportunity to work with Senet and their team of some of the worlds foremost experts in IoT communications to develop this important IoT solutions track," said Quentin Rund, InfoAg Conference Secretary. "Farmers have already begun implementing IoT solutions to increase the quality, quantity, sustainability and cost effectiveness of agricultural production, and these investments are set to push the future of farming to the next level."
At the conference, Senets Director of Business Development, Paul Welbig, will discuss the different IoT network technologies available today and how LPWANs in particular are driving innovation across the entire agriculture industry. Example use cases will be presented to illustrate how IoT solutions enabled with LPWAN connectivity allow farmers to detect soil moisture, crop growth and livestock feed levels and remotely manage and control connected harvesters and irrigation equipment among other key functions.
Together with LoRa Alliance members MultiTech, ARM, and myDevices; Senet will be providing instruction in an IoT Commercial Solutions Development Platform workshop. In this workshop, developers and engineers will learn how to start the development of commercial loT solutions using pre-certified LoRaWAN hardware platforms and mbed.org to quickly create new "connected prototypes."
Senet is also an exhibitor at the conference. The company will be showcasing its secure and highly scalable LoRa-based network and growing ecosystem of IoT partners at its booth (#64) throughout the week.
"InfoAg is one of the premier events for the discussion and advancement of precision agriculture," said John Nye, Vice President Business Development at Senet. "We are excited to have the opportunity to help develop solutions-based education content for attendees and to work with our IoT ecosystem partners to shine a light on the many ways farmers can benefit from the next generation of smart farming systems."
The full IoT track agenda, including presentations from network, sensor and application software leaders can be found on the InfoAg conference website.
Media and Analyst Briefings
To schedule a briefing at Senets booth #64, please contact Senets PR team at 617-981-9637 or mfarhadi(at)elevatecom.com.
For business-related meetings, please contact Ken Lynch at 617-877-5393 or klynch(at)senetco.com.
About Senet, Inc.
Senet, a contributing member of the LoRa Alliance™, is the first and fastest growing provider of secure, public, low-power wide-area networks (LPWANs) and Managed Network Services for Internet of Things (IoT) applications supporting the LoRaWAN™ protocol. LPWANs enable value-driven solutions that can unlock immediate ROI by enabling devices to connect over very long ranges (approximately 15 miles) while delivering very long battery power life (approximately 10 years) for an extremely low total cost of ownership. For applications that require low cost, low power, and long range, the Senet network and Managed Network Services have distinct advantages over cellular, Wi-Fi, and other emerging connectivity technologies for the IoT market. For additional information, visit http://www.senetco.com.
Featured Product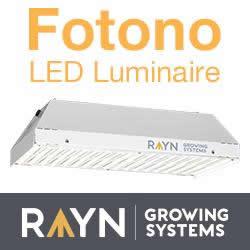 Fotono is a full spectrum LED horticultural luminaire designed to directly replace HPS lights in greenhouses. At 12 pounds, 20 inches long, and 5 inches high, Fotono's compact size makes installation simple while minimizing structural burden on greenhouses. This compact fixture packs energy-saving and yield-improving features, such as a high output, stepless dimming, advanced spectral capabilities, and more.