Colorado-based SWIIM System is proud to announce today that Forbes Magazine ranked SWIIM as one of the top 25 most innovative ag-tech companies of 2017.
DENVER--(BUSINESS WIRE)--Colorado-based SWIIM System is proud to announce today that Forbes Magazine ranked SWIIM as one of the top 25 most innovative ag-tech companies of 2017. With SWIIMs growing list of marquee clients and its partnership with Western Growers Association, it is in a position to help growers of all sizes combat challenges associated with their water supplies. SWIIM is focusing its efforts in California and Colorado, with plans for expansion into other western states.

"The ag-tech space right now is in a very unique position. You cant ignore the fundamentals," says vice president of Business Development at AgTech Accelerator Corp., Corey Huck. "You have to produce a lot more crop on limited acres, and 70% of fresh water is already being used in agriculture. We have to do more with less at the end of the day and the only way you can do that is with technology."
SWIIM provides actionable data—without the dreaded "information overload" that farm managers have often times dealt with around effectively managing their water supplies. It eliminates disconnected results common with other on-farm data acquisition platforms. SWIIM acts as your on-farm water accountant, providing a full service, turn-key solution that produces a very accurate and easy-to-read on-farm water budget. It includes a software suite and patented process that enables agricultural water users to plan, manage and optimize crop water use through the use of sensors, data loggers, telemetry and remote sensing via satellite.
SWIIM is compatible with surface-delivered water, groundwater (pipe) or a combination of both sources on one or multiple fields. The system works alone or integrates with common irrigation scheduling systems. It works with furrow, sprinkler, drip or a combination of irrigation methods within an operation.
"This has been a long road—over seven years of research and development with the US Department of Agriculture, regional universities and other stakeholders. It took multiple years of working with the fine folks at Western Growers to build the trust of the agricultural community," says Kevin France, CEO of SWIIM. "I am most impressed with the SWIIM team—those are the people that should be most proud of this recognition. They earn it each and every day."
To find the 25 ag-tech startups that carry the most potential, Forbes says they surveyed the agricultural technology landscape by speaking with experts, venture capitalists and accelerators; then, they examined financials and each companys agricultural credentials.
Featured Product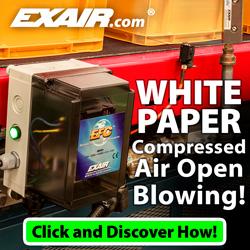 Compressed air is a limited resource that is generated in-house for the benefit of many operations within the manufacturing environment. Learn how to ensure all point of use applications are using your compressed air in the most effective and efficient way possible. Learn how much it costs to produce that compressed air and how Engineered Nozzles can help you use your air more effectively and efficiently.