Provides detailed drone information, general location and allows users to create multi-device mesh networks for large area monitoring
DeTect has announced the release of the Pro version of the popular DroneWatcher APP - the app that makes Android smartphones and tablets into personal drone detectors for security and privacy protection. The $5.00 (US) Pro upgrade version has all the features of the free app plus provides detailed information on the detected drone, includes a signal strength indicator, and allows multiple users to create a crowdsourced network for wide-area drone monitoring. The free and Pro versions of the app are available on Google Play.

When installed on a smartphone, tablet or other Android device, the DroneWatcher APP makes the device into a drone detector with a detection range of ¼ to ½ mile. With the Pro version users can group multiple devices together to form low-cost, wide area mesh networks for monitoring of large areas and, when one device detects a drone, all devices in the group will be alerted. The signal "power bar" also allows each app user to determine the general direction of detected drones controller and the drone ID feature shows the drone type and unique ID number. The app currently detects 90-95% of the non-encrypted consumer drones on the market. For added, multi-layer security, the DroneWatcher APP can integrate with DeTects DroneWatcher RF and HARRIER Drone Surveillance Radar (DSR) sensors to provide a near 100% drone detection and defense solution.
About DeTect: DeTect (http://www.detect-inc.com) is a US-based leader in remote sensing technologies with offices in the US and Europe and projects worldwide. DeTects products include drone surveillance and interdiction systems, aircraft bird strike avoidance radars, UAV Ground-based Sense-and-Avoid radars, airspace and marine security radars, border protection systems, and bird radars for wind farm and industrial bird control and protection. Since 2003, DeTect has manufactured and delivered over 350 systems worldwide. DeTect most recently installed a DroneWatcher™ drone detection and defense system at the Northwest Florida Beaches International Airport (ECP) in Panama City, Florida.
Featured Product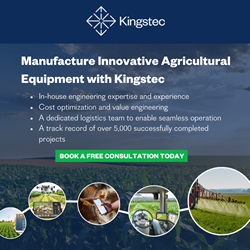 In the rapidly evolving agricultural landscape, leading AgriTech companies are increasingly leveraging the experience and expertise of strategic engineering and manufacturing partners to bring cutting-edge, cost-effective solutions to market. Kingstec is an all-in-one engineering, manufacturing, and logistics partner, with over 40 years of experience and 5,000 successfully completed projects. We can help you bring innovative, cost-optimized farm equipment, sensors, drones, components, and more to market quickly with in-house engineering and manufacturing expertise, a dedicated logistics team, and a network of world-class manufacturing and supply chain partners.