DuPont intends to provide its OPTIMASH® AD-100 enzyme biotechnology to Bock for distribution of the biogas enzymes to customers across the United Kingdom.
Today, DuPont Industrial Biosciences (DuPont) and silage storage specialists Bock UK Ltd (Bock) announced a strategic partnership where Bock will demonstrate DuPonts biogas enzyme technology at commercial scale in the U.K. market. The enzyme technology, OPTIMASH® AD-100, has been shown to help biogas producers in the agricultural sector improve yields and process robustness, which ultimately can increase customers revenue and profitability while simultaneously increasing offerings in renewable energy.

DuPont intends to provide its OPTIMASH® AD-100 enzyme biotechnology, an innovative and easy to use liquid enzyme product that has been shown to produce up to a 13 percent increase in biogas yields in anaerobic digesters, to Bock for distribution of the biogas enzymes to customers across the United Kingdom.
The biotechnology works by accelerating the breakdown of various materials such as maize silage, grasses, straw, as well as manures and some food wastes, resulting in sugars more suitable for conversion into biogas. DuPont entered the growing biogas sector with the launch of OPTIMASH® AD-100 in July 2016.
"Since the launch of DuPonts enzyme biotechnology OPTIMASH® AD-100, we have been confident that our biogas enzymes can help rural and farm communities around the world," said Jaclyn DeMartini, Ph.D., global business director of Biogas Enzymes, DuPont Industrial Biosciences. "This strategic partnership with Bock UK brings our biotechnology to those customers in the U.K. and improves biogas production and economics through the use of DuPont enzyme technologies."
"We are very proud to form this strategic partnership with DuPont and are eager to bring this biogas enzyme technology to our network of consumers in the United Kingdom," said Will Wilson, business development manager, Bock UK. "With our expertise in silage storage across the U.K. anaerobic digestion (AD) industry and DuPonts track record as a world-leading industrial biotechnology company, I am confident that this partnership will produce great results and bring customers an exceptional product that will ultimately increase the financial performance of U.K. AD plants."
The strategic partnership was announced ahead of the UK AD & Biogas and World Biogas Expo 2017, hosted by The Anaerobic Digestion & Bioresources Association at the National Exhibition Centre in Birmingham on July 5-6. DuPont Senior Scientist Sandra Hinz will speak on a panel - entitled "Innovation in biomethane production: latest technologies and market opportunities" on July 5 at 12 p.m. BST - about how enzyme technology drives profits in biogas production. During Hinzs presentation, she will discuss DuPonts dedication to the continued growth and improvement of the biogas industry and how partnerships, with industry manufacturers like Bock UK will enhance the biogas process. Both companies will be represented at the conference respectively. DuPont Industrial Biosciences will be available to discuss biogas enzyme products at their booth located at E215. Bocks team will have an exhibit at stand L401.
Bock UK are the U.K. leaders in silage storage supplying over 50 AD plants in the U.K. with patented sloping wall silage clamps and many more plants with silage clamp covers and accessories. Over 2 million tonnes of silage is stored in Bock UK silage clamps on AD plants in the U.K.
Bock UKs goal is to help our customers achieve the best possible silage quality and efficiency within their AD plants, through design, experience and innovation. You can learn more about Bock UK and the range of products online http://www.bock-uk.com, or on Twitter @Bock_UK. Please call (+01787 220 560) or email (sales@bock-uk.com) the team at Bock UK for more information.
DuPont Industrial Biosciences works with customers across a wide range of industries to make products and industrial processes more efficient and sustainable. Through a unique combination of agriculture, biotechnology, chemistry and material science capabilities, we advance market-driven, biobased solutions to meet the needs of a growing population, while protecting our environment for future generations. For updates about how DuPont Industrial Biosciences is helping customers deliver cost-effective products with superior performance and sustainability, follow @DuPontBiobased on Twitter or visit our website at http://biosciences.dupont.com.
DuPont (NYSE: DD) has been bringing world-class science and engineering to the global marketplace in the form of innovative products, materials and services since 1802. The company believes that by collaborating with customers, governments, NGOs and thought leaders we can help find solutions to such global challenges as providing enough healthy food for people everywhere, decreasing dependence on fossil fuels, and protecting life and the environment. For additional information about DuPont and its commitment to inclusive innovation, please visit http://www.dupont.com.
DuPont Forward-Looking Statements
On December 11, 2015, DuPont and The Dow Chemical Company ("TDCC") announced entry into an Agreement and Plan of Merger, (the "Merger Agreement") under which the companies will combine in an all-stock merger (the "Merger Transaction"), subject to satisfaction of closing conditions, including receipt of regulatory approval. The combined company will be DowDuPont Inc. DuPont and Dow intend that, following consummation of the Merger Transaction, that DowDuPont Inc. will pursue, subject to the receipt of approval by the board of directors of DowDuPont, the separation of the combined companys agriculture business, specialty products business, and materials science business through a series of tax-efficient transactions (collectively, the "Intended Business Separations").For more information, please see DuPonts latest annual, quarterly and current reports on Forms 10-K, 10-Q and 8-K, as well as the joint proxy/prospectus included in the DowDuPont Registration Statement on Form S-4 filed in connection with the Merger Transaction. In connection with the European Commission (EC) grant of conditional regulatory clearance in Europe for the Merger Transaction, DuPont entered into a definitive agreement (the "FMC Transaction Agreement") with FMC Corporation (FMC). Under the FMC Transaction Agreement subject to the closing of the Merger Transaction in addition to customary closing conditions, including regulatory approval, FMC will acquire certain Crop Protection business and R&D assets from DuPont and DuPont has agreed to acquire certain assets relating to FMCs Health and Nutrition segment, (collectively, the "FMC Transactions".)
This document contains forward-looking statements which may be identified by their use of words like "plans," "expects," "will," "believes," "intends," "estimates," "anticipates" or other words of similar meaning. All statements that address expectations or projections about the future, including statements about the companys strategy for growth, product development, regulatory approval, market position, anticipated benefits of recent acquisitions, timing of anticipated benefits from restructuring actions, outcome of contingencies, such as litigation and environmental matters, expenditures, financial results and timing of, as well as expected benefits, including synergies, from proposed merger with The Dow Chemical Company and intended post-merger separations, are forward-looking statements. These and other forward-looking statements, including the failure to consummate the DowDuPont Merger or the FMC Transactions, to make or take any filing or other action required to consummate such transactions in a timely manner or at all, are not guarantees of future results and are subject to risks, uncertainties and assumptions that could cause actual results to differ materially from those expressed in any forward-looking statements. Forward-looking statements are not guarantees of future performance and are based on certain assumptions and expectations of future events which may not be realized. Forward-looking statements also involve risks and uncertainties, many of which are beyond the companys control. Some of the important factors that could cause the companys actual results to differ materially from those projected in any such forward-looking statements are: fluctuations in energy and raw material prices; failure to develop and market new products and optimally manage product life cycles; ability to respond to market acceptance, rules, regulations and policies affecting products based on biotechnology and, in general, for products for the agriculture industry; outcome of significant litigation and environmental matters, including realization of associated indemnification assets, if any; failure to appropriately manage process safety and product stewardship issues; changes in laws and regulations or political conditions; global economic and capital markets conditions, such as inflation, interest and currency exchange rates; business or supply disruptions; security threats, such as acts of sabotage, terrorism or war, natural disasters and weather events and patterns which could affect demand as well as availability of products for the agriculture industry; ability to protect and enforce the companys intellectual property rights; successful integration of acquired businesses and separation of underperforming or non-strategic assets or businesses; and risks related to the DowDuPont Merger Transaction and the FMC Transactions. These risks, as well as other risks associated with the DowDuPont Merger and the FMC Transactions, are or will be more fully discussed in (1) DuPonts most recently filed Form 10-K, 10-Q and 8-K reports, (2) DuPonts subsequently filed Form 10-K and 10-Q reports and (3) the joint proxy statement/prospectus included in the Registration Statement filed with the SEC in connection with the DowDuPont Merger. Unlisted factors may present significant additional obstacles to the realization of forward looking statements. Consequences of material differences in results as compared with those anticipated in the forward-looking statements could include, among other things, business disruption, operational problems, financial loss, legal liability to third parties and similar risks, any of which could have a material adverse effect on DuPonts consolidated financial condition, results of operations, credit rating or liquidity. The company assumes no obligation to publicly provide revisions or updates to any forward-looking statements, whether as a result of new information, future developments or otherwise, should circumstances change, except as otherwise required by securities and other applicable laws.
Featured Product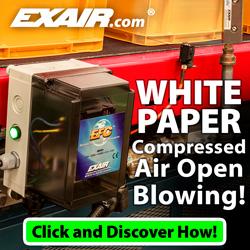 Compressed air is a limited resource that is generated in-house for the benefit of many operations within the manufacturing environment. Learn how to ensure all point of use applications are using your compressed air in the most effective and efficient way possible. Learn how much it costs to produce that compressed air and how Engineered Nozzles can help you use your air more effectively and efficiently.