Partnership enables rapid deployment of LoRaWAN connectivity for millions of IoT devices
PORTSMOUTH, N.H. & ATLANTA--(BUSINESS WIRE)--Senet, the first and fastest growing provider of secure, public, low-power wide-area networks (LPWANs) and Managed Network Services for Internet of Things (IoT) applications supporting the LoRaWAN™ protocol, today announced it has partnered with SenRa Tech Pvt. Ltd., a Low-Power Wide-Area Network provider deploying LoRaWAN connectivity throughout India.

SenRa is utilizing Senets cloud-based Managed Network Services for IoT (MNSI). Senets MNSI solution allows SenRa to flexibly deploy LoRaWAN services on its local physical assets, supervise the network infrastructure, manage connectivity and control roles and access rights within a reliable and scalable solution. This in turn allows SenRa to accelerate the delivery of its IoT and Machine-to-Machine (M2M) network services for customers providing solutions in industries such as water metering and management, agriculture, building infrastructure and smart cities. Analysts project the IoT market in India to grow at almost 30 percent per year and reach a forecasted value of $15 Billion by 2020.
Senet announced its Managed Network Services for IoT last week as part of its strategy to leverage a combination of its knowledge and experience gained running the largest LoRa IoT network in North America and its world class OSS and BSS software to partner with global Communication Service Providers (CSP), cable multiple-system operators (MSO) and application providers to rapidly take advantage of IoT opportunities. Senets MNSI solution also can be used to partner with application providers who have built public or private LoRa-based networks, who would rather focus on their core application business instead of managing a network. Senets Managed Network Services allows communication firms and application providers anywhere in the world to easily and completely deploy LoRaWAN IoT services on their existing infrastructure or Senets public network. MNS will rapidly accelerate time-to-revenue and securely activate, monitor and provide scale to support thousands, and ultimately millions of devices across a broad range of business models.
"Senet is excited to be working with SenRa to meet the exploding demand for IoT solutions in India," said Bruce Chatterley, CEO & President at Senet. "Senets Managed Network Services for IoT enables forward thinking companies like SenRa to deploy highly-secure and scalable LoRaWANs under their own brand with minimum time-to-market and the lowest possible capital expenditure and cost of ownership structure."
SenRas LoRaWAN roll out is currently underway and the company is committed to contributing to the evolution of the LoRaWAN ecosystem, including recently joining LoRa Alliance™, one of the fastest growing IoT alliances with more than 500 members.
"Senets unparalleled experience in scaling and managing LPWANs made selecting their Managed Network Services an easy choice," said Ali Hosseini, Chief Executive Officer of SenRa. "India aims to capture a 20 percent share of a global 300 billion dollar IoT market opportunity in another five years. The best way for us to support this growth is by partnering with market leaders and technology innovators like Senet who are proven capable of meeting the diverse challenges emerging in the M2M and IoT space."
About Senet, Inc.
Senet, a contributing member of the LoRa Alliance™, is the first and fastest growing provider of secure, public, low-power wide-area networks (LPWANs) and Managed Network Services for Internet of Things (IoT) applications supporting the LoRaWAN™ protocol. LPWANs enable value-driven solutions that can unlock immediate ROI by enabling devices to connect over very long ranges (approximately 15 miles) while delivering very long battery power life (approximately 10 years) for an extremely low total cost of ownership. For applications that require low cost, low power, and long range, the Senet network and Managed Network Services have distinct advantages over cellular, Wi-Fi, and other emerging connectivity technologies for the IoT market. For additional information, visit http://www.senetco.com.
About SenRa Tech Pvt. Ltd.
SenRa, a contributing member of the LoRa Alliance™, is a LPWAN provider for IoT/M2M applications. SenRa is currently deploying LPWANs throughout India for projects which require secure, reliable, long distance communication at low cost. We work with partners deploying environmentally friendly solutions such as water meters, air quality monitors, smart agriculture solutions, electric and power meters. For additional information, visit: http://www.senraco.com.
Featured Product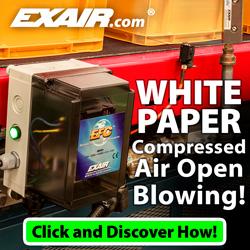 Compressed air is a limited resource that is generated in-house for the benefit of many operations within the manufacturing environment. Learn how to ensure all point of use applications are using your compressed air in the most effective and efficient way possible. Learn how much it costs to produce that compressed air and how Engineered Nozzles can help you use your air more effectively and efficiently.